These are the hardest pieces ever written for the VIOLIN
2 August 2019, 13:09 | Updated: 2 August 2019, 13:11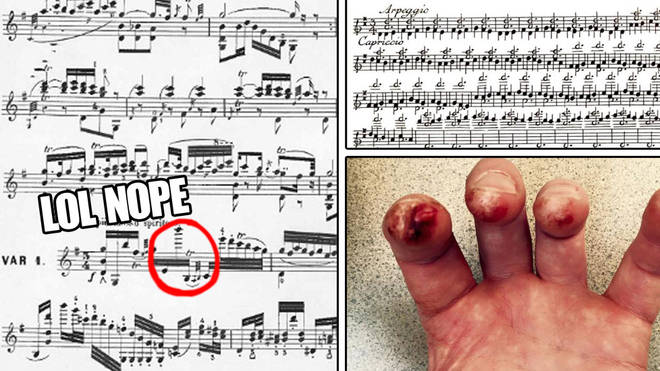 These pieces of music are all terrifyingly ambitious and virtuosic – and they might just make your fingers bleed. Here are the most difficult pieces ever written for the violin.
Looking for some pieces of violin music that will make your fingers look like THIS?
You've come to the right place.
24 Caprices – Paganini

Often cited as the hardest works for solo violin, Niccolò Paganini's Caprices make up 24 fiendishly demanding pieces for the string instrument, packed with double stops, left-hand pizzicato and endless spiccato bowing. It's no wonder people thought Paganini was in league with the devil…

Violin concerto in D minor – Sibelius

Reserved for the greatest virtuosos, Jean Sibelius' only concerto is undoubtedly one of the most intense and difficult violin concertos ever written. British musicologist Donald Tovey once described the final movement as a 'polonaise for polar bears', saying, 'I have not met a more original, a more masterly, and a more exhilarating work'.

Sonata No. 9 'Kreutzer' – Beethoven

Beethoven dedicated his Sonata No. 9 to Rodolphe Kreutzer, who was considered the finest violinist of the day but Rodolphe, regrettably, hated the piece. It is notorious for its technical difficulty and emotional scope, as well as its unusually long length for a sonata.

Partita in D minor BWV 1004 – J.S. Bach

When in 2007, Joshua Bell stuck a baseball cap on his head, rocked up at a Metro station in Washington and began to busk, J.S. Bach's Partita in D minor was his what he chose to play. He described it as "not just one of the greatest pieces of music ever written, but one of the greatest achievements of any man in history". The double stops in particular sound pretty special.

'The Last Rose Of Summer' – Heinrich Wilhelm Ernst

Heinrich Wilhelm Ernst is not the biggest name in classical music, but his 'The Last Rose Of Summer' is notorious among violinists for being a complete nightmare to play. Ernst was an obsessive devotee of Paganini, the original violin rockstar, and he loved to include stupidly complex pizzicato in his music.

Caprice in D major 'Il labirinto armonico' – Locatelli

In places, Locatelli's 'Labyrinth' bizarrely has the feel of an Irish jig. The melody, scored in a jaunty 3/4 time, jumps between an open D string and some terrifyingly ultrasonic pitches up on the E string. Keep some plasters in your violin case – your fingers will be crying after this one.

Solo Violin Sonata – Bartók

Any piece with 'unaccompanied' next to it is sure to send terror into the soul of any violinist. This a cappella work by Béla Bartók was dedicated to and premiered by Yehudi Menuhin, who demanded the composer make some tweaks to make the Sonata easier to play.

Violin Concerto – Ligeti

Ligeti was a madman when it came to composing for the violin. A hotchpotch of effects and textures, his concerto for violin and orchestra is packed with harmonics and moments of microtonality. In other words, it's HARD.

6 Caprices – Sciarrino

You'll have rosin all over your hands after attempting these virtuosic showstoppers for solo violin. Packed with ethereal-sounding harmonics, the Caprices are incredibly ambitious, and require the violinist to play incredibly close to the bridge with their left hand.

God Save the King – Paganini

In 1829, Paganini decided to compose a highly virtuosic set of variations on the theme of England's national anthem, 'God Save the King', featuring his signature techniques of left-hand pizzicato and spiccato aplenty. Just don't forget to breathe – this one is truly absurd.