Yehudi Menuhin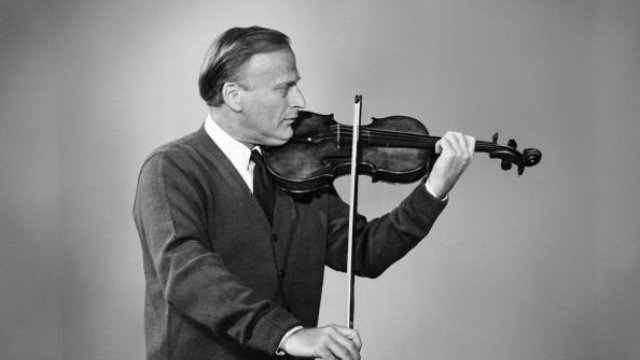 Biography
Menuhin was born in New York on 22 April 1916.

His first public appearance, aged seven, was as soloist with the San Francisco SO.

He studied in Paris with the Romanian composer George Enescu.

His first concerto recording - Bruch's Violin Concerto - was made in London in 1931.

In 1932 he recorded Elgar's Violin Concerto with the composer conducting.

Menuhin commissioned a sonata from Bartok in 1943.

Menuhin performed for Allied soldiers during World War II and, with Benjamin Britten on piano, for the surviving inmates of the Bergen-Belsen concentration camp.

In 1947 he played concerts with the Berlin Phil under Wilhelm Furtwängler as an act of reconciliation.

In 1949, he gave the first performance of Walton's Violin Sonata.

In 1952 Menuhin met the influential yoga teacher Iyengar and arranged for him to travel with him and teach abroad.

In 1962, he established the Menuhin School in Surrey.

In 1965 he received an honorary knighthood.

Menuhin had a long association with Indian sitar master Ravi Shankar and jazz legend Stéphane Grappelli.

In 1983 Menuhin founded the Yehudi Menuhin International Competition for Young Violinists. Many of its prizewinners have gone on to success, including Tasmin Little, Julia Fischer and Ray Chen.

Menuhin's recording contract with EMI lasted some 70 years and is the longest in the history of the music industry. He made his first recording at age 13 in November 1929, and his last in 1999, when he was nearly 83 years old. He recorded over 300 works for EMI.

He died on 12 March 1999.

Did you know?

The catchphrase "Who's Yehoodi?" popular in the 1930s and 1940s was inspired by Menuhin's guest appearance on a radio show, where Jerry Colonna turned "Yehoodi" into a widely recognized slang term for a mysteriously absent person.
View more