A pianist took his grand piano on a barge, to serenade the canals of Venice
26 May 2020, 15:04 | Updated: 19 February 2021, 13:10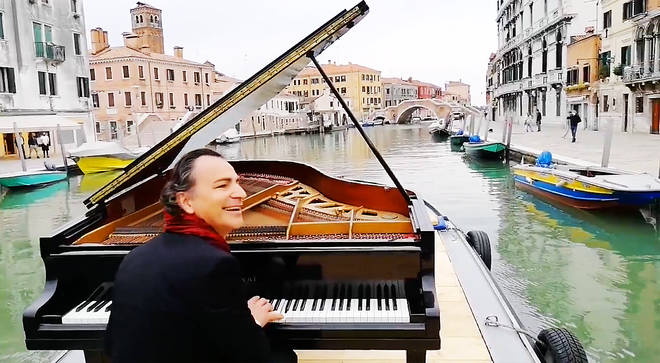 While many concert halls remain closed, this pianist knew just what to do...
An Italian pianist has treated local residents in Venice to a beautiful outdoor concert, while sailing down one of the city's most colourful canals.
With various coronavirus restrictions still in place across Italy, the usually bustling Grand Canal has seemed much quieter than usual – but now, the soothing sound of a grand piano rings out over the water.
In the mesmerising clip (watch below), we hear pianist-composer Paolo Zanarella (who likes to call himself "the out of place pianist") say: "Another small gift for you all… I'm currently leaving Venice but I wanted to be with you for another minute. I hope this doesn't disturb you…"
He adds that it's his mission to take music out of the concert hall and bring it to streets and squares, where everybody can enjoy it. Hear him playing his beautiful 'Venezia – Ricordando carnevale' in the video below.
Read more: Stonehenge to livestream its summer solstice celebration for first time in history >
Zanarella's wonderful one-hour display, which took place on Saturday 16 May at 6pm, is clearly a welcome distraction for many – as the barge floats past ornate buildings and under bridges towards the lagoon, passers-by can be seen waving and clapping him on.
But this isn't the first time he's chosen to perform in the great outdoors – he's also been spotted pitching up his piano in leafy forest settings.
In the video below, he treats online audiences to The Pink Panther theme before moving on to a melody by Italian composer and conductor, Ennio Morricone:
As for his latest performance, it comes as Venice's canals appear clearer than they have for years, with lockdown measures meaning there has been less need for transport – and the water's newfound clarity certainly adds to the scenery in this gorgeous clip.
Beautiful musical scenes, in a beautiful Italian city.
Listen to Zanarella's track 'Venezia – Ricordando carnevale' on Spotify here.