Venice canals run clear, dolphins appear in Italy's waterways amid coronavirus lockdown
20 March 2020, 17:30 | Updated: 8 September 2020, 14:38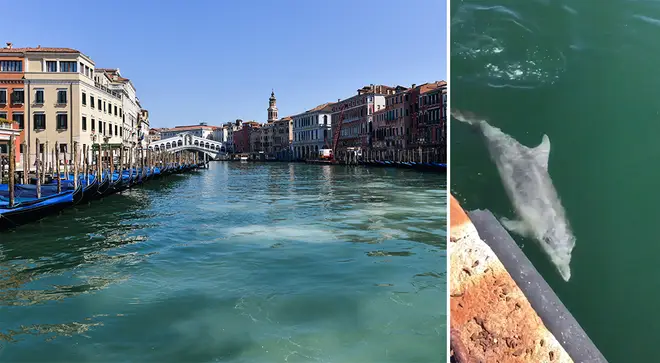 Venice is the clearest it has been in 60 years, and dolphins have been spotted down in southern Italy, swimming in clearer water. Every cloud...
The canals in Venice are clearer than they have been for a long time, due to lockdown measures taken in the face of coronavirus.
As countries and their governments are urging their populations more and more to 'self-isolate' and stop all non-essential travel abroad, tourist "honey traps" including Venice are seeing hardly any visitors.
Click here for the latest coronavirus advice from the NHS >
And so, in Venice's case, there is less need for transportation of any kind to be running, and the canals with less boats are coming up clean, clear and beautiful.
"The water now looks clearer because there is less traffic on the canals, allowing the sediment to stay at the bottom," a spokesperson for the Venice mayoral office told CNN.
Read more: Quarantined Italian tenor sings 'Nessun dorma' from his balcony >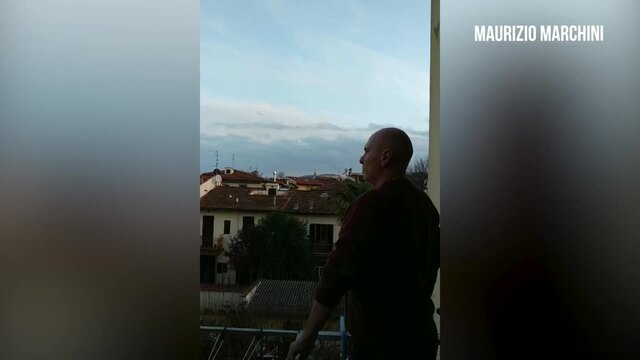 Quarantined Italian tenor passionately sings 'Nessun Dorma'
He continued: "It's because there is less boat traffic that usually brings sediment to the top of the water's surface."
So the water itself isn't necessarily in any better condition or cleaner, but is less churned up. And its clarity seems to be attracting more creatures than usual. Swans and fish have even been spotted paddling and swimming around.
"Venice hasn't seen clear canal water in a very long time," Gianluca De Santis says in a Twitter post. "Nature just hit the reset button on us."
People have taken to the Venezia Pulita ('Clean Venice') Facebook Group to share photos and videos highlighting and celebrating the development.
😳 😳 😳 #venice
An unexpected side effect of the pandemic: 💧Water's flowing through the canals of Venice is clear for the first time in forever.
🐟 🦢 The fish are visible, the swans returned pic.twitter.com/crWf4kdZ1M

— Aurel Boriçi (@AurelBoriciBT) March 18, 2020
Down in Cagliari's port, in Sardinia, dolphins have even been spotted swimming around.
Boars in the middle of my hometown, dolphins in the port of Cagliari, ducks in the fountains in Rome, Venice canals have now clean water full of fishes. Air pollution dropped. Nature is reclaiming its spaces during quarantine in Italy. #COVID19 #COVIDー19 pic.twitter.com/dr6QILfF9V

— Francesco Delrio (@Cosodelirante) March 15, 2020
While the actual quality of the water in Venice isn't better per se, the mayor's spokesperson did point out to CNN that "The air is less polluted since there are fewer vaporetti and boat traffic than usual because of the restricted movement of residents."
So while we're all having a tough time adjusting to self-isolation measures, let's take a moment to acknowledge the small silver lining and celebrate Mother Nature's short breath of fresh air, unimpeded by our incessant global travel.