15 timeless pieces to begin your journey into classical music
31 July 2023, 22:34 | Updated: 31 July 2023, 22:37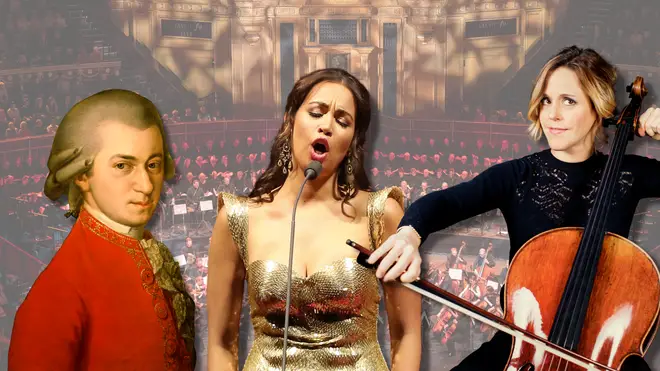 From Beethoven's aching solo piano works to Tchaikovsky's swelling ballet themes, here's our guide to the pieces we think are the perfect place to start, on your journey into classical music.
Classical music is a very broad term that includes a wealth of compositions written over the past 1,000 years… so where to start?
Well here are some of our favourite pieces that, we think, provide the perfect introduction to the wonderful, rich, varied world of classical music.
Happy exploring!
Read more: The 15 most famous tunes in classical music
Handel – Zadok the Priest

This miniature piece by Handel has played a big part in British history: it's been performed at the coronation of every British monarch since it was written in 1727.

The words ('Zadok the Priest, and Nathan the Prophet anointed Solomon King') come from the biblical account of the coronation of Solomon. The piece is one of four 'Coronation Anthems' composed by Handel for the coronation of King George II. But this one is by far the most famous.

And what's more, it was the first piece ever played on Classic FM when the station launched on 7 September 1992. So we thought it was a very good place to start, too.

Listen on Global Player: Classic FM Hall of Fame 2023 playlist

Handel's Zadok the Priest – Royal Liverpool Philharmonic Orchestra

Holst – The Planets

The Planets is a suite for orchestra in seven sections, or movements, by Gustav Holst. Each movement is inspired by one of the planets and their characteristics as defined by astrology.

So there's 'Mars, the bringer of war'; 'Jupiter, the bringer of jollity' and 'Venus, the bringer of Peace'. 'Mars' and 'Jupiter' are the best known, but the whole work is completely enchanting.

Amazing performance of Mars from Holst's Planets Suite seen from Lo-Fi Orchestra DIY project

Beethoven – 'Eroica' Symphony No.3

Beethoven's 'Eroica' symphony has the traditional four movements, but that's where the composer's adherence to tradition stops. This is a piece that broke the mould.

Before Beethoven symphonies were much shorter, much quieter and generally a less intense affair (listen to some of Haydn's symphonies for a comparison). With his symphonies, Beethoven marked the beginning of a new era, an era of emotion and passion. Listen to this piece and you're listening to the beginning of what would become the Romantic era.

Read more: The 20 greatest Beethoven works of all time

Beethoven: Symphony No. 3 Eroica | Michael Boder & ORF Vienna Radio Symphony Orchestra

Rachmaninov – Piano Concerto No.2

You might not know its name, but you almost certainly know Rachmaninov's Second Piano Concerto. This is the *the* quintessential Romantic piano concerto for the following reasons.

Firstly, the piano part is unbelievably difficult. It's the perfect showcase for pianists to really show what they can do. Secondly, the melody is utterly gorgeous, and by the end of this three-movement piece there won't be a dry eye in the house.

Finally, it's all about that beautiful lush orchestral sound. Rachmaninov's rich harmonies and the vast size of the symphony orchestra he uses means this is the musical equivalent of a dark chocolate truffle.

Rachmaninov Piano Concerto No. 2… for solo piano! | Arsha Kaviani

Mozart – The Queen of the Night's aria from The Magic Flute

Heard about opera but not sure where to start? Here is a great place.

The Queen of the Night's aria comes from Mozart's The Magic Flute. The opera itself is a slightly odd offering about the power of love, the strength of friendship… a bird-catcher and two enchanted musical instruments.

This is perhaps the most famous moment and as soon as you hear it, you'll understand why. It's an incredible showpiece for the soprano and always brings the house down in any performance.

Read more: 10 life-changing pieces of music by Wolfgang Amadeus Mozart

Soprano Rainelle Krause flawlessly sings Mozart's 'Queen of the Night' aria UPSIDE DOWN

Chopin – Nocturne in E flat

Chopin was one of the most famous composers of solo piano music, and he wrote his first set of three Nocturnes, now some of his best-known pieces, when he was only in his early twenties.

The Opus 9 Nocturnes, a set of three works from which the 'E flat' Nocturne is his best known, give a first glimpse at the composer's 'thing' for improvisation, which is bedded into most of his solo piano works.

Listen out for those lovely, florid flurries of higher notes and trills in the right hand.

Chopin - Nocturne in E Flat Major (Op. 9 No. 2)

Pachelbel – Canon in D

You've definitely heard this one before – it's a popular piece for weddings but it also appears in films, on TV and even as hold music when you're just trying to pay your phone bill.

Johann Pachelbel is the original one-hit wonder. He was alive in the late 17th century and did write plenty of other stuff, but somehow none of it survived apart from this short, simple Canon in D.

But its simplicity is probably why this piece survived. With its steady rhythm and gentle repetition, Pachelbel's Canon is the perfect piece to enjoy after a long, stressful day.

Spin Quartet Challenge - Qoala Quartett: Pachelbel Canon in D

Stravinsky – The Firebird

This is perhaps the polar opposite of Pachelbel's Canon. Do not listen to this piece if you're trying to drift off at night.

Stravinsky was a Russian composer born in 1882. He's famous for writing The Rite of Spring which might be the only classical piece to have caused a riot.

The Firebird was originally written as a ballet and told the story of Prince Ivan, an evil sorcerer and a magical firebird.

The music is magical, creepy and catchy all at once.

Stravinsky's The Rite of Spring, played by a toy orchestra

Debussy – Clair de lune

If solo piano is more your thing, Debussy's exquisite 'Clair de lune' is one of the best. The name means 'Moonlight' and the twinkling melody are supposed to paint a musical picture of the light of the moon reflected in water.

The French composer Debussy was known as an 'Impressionist' partly because he was writing his music around the same time that the Impressionist painters were growing in fame. But also because his music seemed to share the sense of capturing the impression of a moment or place.

There's certainly something nocturnal about this beautiful piano piece.

Listen on Global Player: Classic FM Relax, our playlist of calming pieces

Florence Price – Adoration

Florence Price was a brilliant composer, and the first African American woman to have her music performed by a major orchestra.

In 2009, a large pile of Price's compositions were found in an abandoned house in Illinois, US and among them, was this gorgeous devotional piece, 'Adoration'.

Originally composed for church organ, it was arranged for violin and piano by Elaine Fine, and you can now hear it in this modern recording by rising star American violinist, Randall Goosby.

Read more: 10 of Florence Price's all-time best pieces of music

Randall Goosby, Zhu Wang - Price: Adoration

Elgar – Nimrod

Of all Elgar's works, none have quite such majesty as the 'Nimrod' from his Enigma Variations.

The dignified melody has become known as one of classical music's ultimate tearjerkers. It's filled with swelling dynamics, epic timpani rolls and moments of harmonic tension. But all quickly resolves in one of those amazing spine-tingling moments, leaving us all with glistening eyes and full hearts.

It's a satisfying listen, and a work that has come to soundtrack patriotic events, from the London 2012 Olympic Games to the annual National Service of Remembrance.

Read more: 10 of Elgar's greatest pieces of music

Jonathan Scott performs his solo organ arrangement of Nimrod on the organ of WeiWuYing

Bach – Cello Suites

Bach's Cello Suites have a rare, timeless beauty. They were once described by cellist Mischa Maisky as his "Bible", and it's hard to believe they lived in obscurity for so many years.

Each suite is a stunning balancing act of harmony and counterpoint, but the 'Prelude' has to be the most famous and loved. Here's Yo-Yo Ma doing it with style:

Yo-Yo Ma plays J.S. Bach's Cello Suite No. 1 | Classic FM Sessions

Tchaikovsky – Swan Lake

Tchaikovsky was one of the best melody writers in history, and it doesn't get much better than his devastating main theme for the ballet Swan Lake.

You might know that main theme from the final, tear-inducing scene of Billy Elliot, or perhaps you've seen the full ballet live.

That soaring main theme opens with a violin tremolo and harp, before a solo oboe takes the main melody, which gradually rises like a swan desperately trying to ascend into the air. The full orchestra then takes the tune and explodes in a glorious symphony of rich melodies and swelling dynamics.

Read more: 10 of Tchaikovsky's best musical masterpieces

Ballerina with Alzheimer's listens to Swan Lake, and it all comes back

Beethoven – Moonlight Sonata

So many of classical music's greatest melodies come back to Beethoven.

The 'Moonlight' Sonata, his most famous solo piano piece alongside 'Für Elise', feels freeform and almost ghostly in its mood. It's a hypnotising listen, defined by its marriage of drone notes and undulating arpeggios.

The storm and the drama come later in the sonata, in its thrilling and virtuosic third movement – which is also more than worth a listen, after you've digested this first movement.

Pianist creates mesmerising visualisation of Beethoven's Moonlight Sonata

Gershwin – Rhapsody in Blue

Gershwin's Rhapsody in Blue represents a revolutionary joining together of European symphonic music, and American jazz.

It opens with the most famous clarinet solo in classical music history, instantly recognisable once you know it. Much of this piece's magic is in the way it graduates from confident, bombastic, orchestrated sections to introspective solo piano passages.

Gershwin's genius is on full display here, and it's a perfect choice for your starters playlist.

Cellist performs arrangement of George Gershwins' Rhapsody In Blue