'Sad' and a 'misery for performers': Andrew Lloyd Webber reacts to his socially-distanced London Palladium trial
24 July 2020, 11:41 | Updated: 24 July 2020, 12:25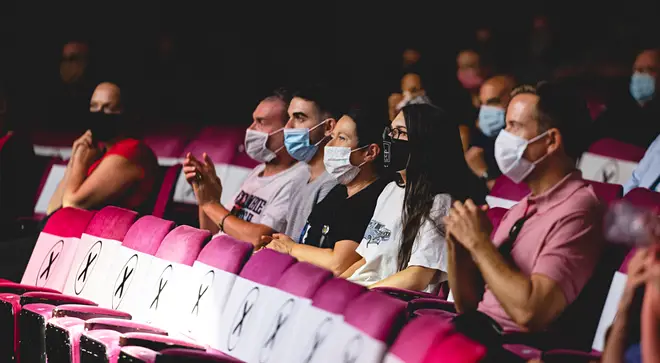 'The Palladium is meant to be full, it's a theatre that wants to love you, and it seems sad,' Lloyd Webber said to the reduced audience.
Live music returned to London Palladium yesterday in one of the first steps of reopening venues safely post-lockdown.
Beverly Knight gave a pilot performance to 640 spectators, among them public health officials and industry figures, in the 2,297 capacity venue on Thursday (23 July).
Strict new measures had been put into place to ensure the safety of theatre-goers, including a reduced capacity – this pilot was just under 30 percent capacity – and strict hygiene procedures. And Andrew Lloyd Webber expressed his feelings on not being able to welcome a fuller audience.
Read more: Around the world, we're getting a glimpse of what live music looks like post-lockdown >
Visitors had to wear face masks and enter Andrew Lloyd Webber's theatre at staggered times while filling out NHS test and trace forms.
Temperatures were checked with thermal imaging cameras as audience members headed to their seats following a contactless entry through security, and door handles within the venue had been swapped for handles that use silver ions to 'kill 99.9 percent of bacteria and viruses'.
The front row of the stalls had also been removed to ensure there was a five-metre distance between the performers and the audience.
Standing on the stage and speaking to the spectators, Lloyd Webber said: "I have to say this is a rather sad sight. I'm so grateful to you all for coming and being a sort of guinea pig like this."
Read more: Andrew Lloyd Webber: 'Theatres can't run with social distancing. It's not economically possible.' >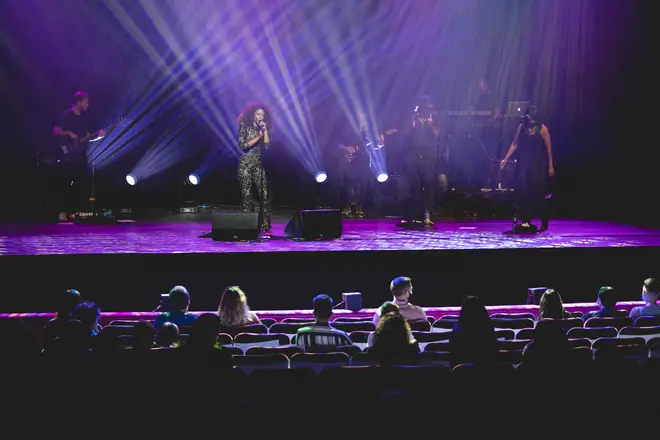 He continued: "But the Palladium is meant to be full, it's a theatre that wants to love you, and it seems sad."
He also added that socially-distanced theatre is a "misery for performers".
Read more: The return of live music: what venues have re-opened and are there any classical concerts near me? >
The mock shows taking place at the London Palladium are part of the government's "pilots" scheme, which if successful will allow venues to reopen from 1 August.
But The Phantom of the Opera composer has condemned government guidance given for performing arts venues to reopen with reduced audiences, describing it as "not economically possible".
"The average play needs a 65 percent capacity, while the average musical needs more. That's before it even starts to repay anything," he said.
"I'm trying to show that with very basic measures, it is possible to reopen venues and concert halls."