Sheku Kanneh-Mason is first cellist in history to reach top 10 of UK album chart
17 January 2020, 18:01 | Updated: 20 January 2020, 11:30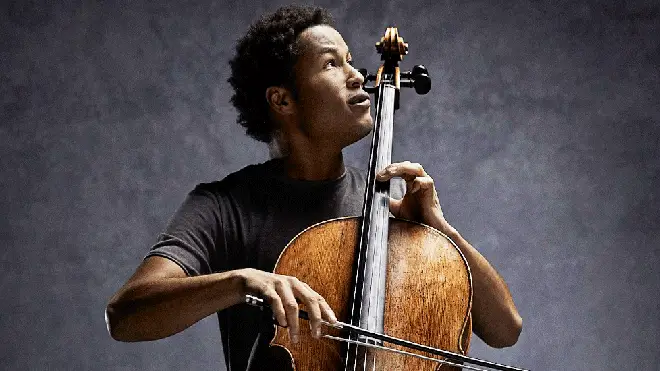 Today, Sheku Kanneh-Mason has made chart history, earning a place in the top 10 alongside 'popular' artists Stormzy and Lewis Capaldi.
Sheku Kanneh-Mason has become the first cellist in chart history to land a place in the UK Official Album Chart Top 10, in a groundbreaking moment for classical and pop music.
His new album, Elgar, is a new entry at No. 8 in the Official Album Chart, putting him in the company of pop artists Stormzy and Lewis Capaldi.
Sheku described the news as "lovely and unexpected", saying, "I really hope this sparks a wider interest in this amazing genre of music".
Recorded at Abbey Road Studios – which was opened by Elgar himself in 1931 – Elgar is the second record from the 20-year-old cellist since his debut album, Inspiration, in 2017.
The news makes Sheku the first British classical instrumentalist in over 30 years to make the Top 10 after violinist Nigel Kennedy released Vivaldi's Four Seasons in 1989.
Sheku first shot to fame following his mesmerising performance at the wedding of the Duke and Duchess of Sussex in May 2018, which was viewed by three billion people worldwide.
His beautiful music has since earned him widespread appeal as well as inspiring a new generation of young cellists, now coined as 'the Sheku effect'.
Featuring the London Symphony Orchestra and conductor Sir Simon Rattle, his chart-topping new album's main feature is Elgar's legendary Cello Concerto, which was first performed a century ago.
Incredibly, Sheku is the same age as British cellist Jacqueline Du Pré when she first performed Elgar's concerto – and he admits that hearing a family CD of her work "directly connected with [his] emotions."
On making history, Sheku said: "It's really lovely and unexpected, but I believe Elgar's music is really amazing and it deserves to be heard by many people, so I'm glad that it has been.
"This whole project was so special to me, and I'm so glad so many people are listening to it. It shows classical music can speak to a wider audience."
Rebecca Allen, president of Sheku's label Decca Records, said: "What an incredible way to begin the new decade! Sheku's unrivalled success as a young artist shows how classical music can reach people all over the world.
"He is a credit to his family and teachers, and I'm thrilled that Decca is fortunate to represent him."
Full tracklist for Elgar:
1. Trad. – 'Blow The Wind Southerly'*
2. Elgar – 'Nimrod' from Enigma Variations*
3. Elgar – 'Cello Concerto In E Minor'
4. Elgar – 'Romance In D minor'*
5. Bridge – 'Spring Song'*
6. Trad. – 'Scarborough Fair'* (with Plinio Fernandes)
7. Bloch – 'Prélude'
8. Bloch – 'Prayer' (with Braimah Kanneh-Mason)
9. Fauré – 'Élégie In C Minor'*
10. Klengel – 'Hymnus For 12 Cellos'
*New arrangement by Simon Parkin for this recording