The Kanneh-Mason family react to their very first viral video
24 February 2023, 15:50 | Updated: 6 March 2023, 13:32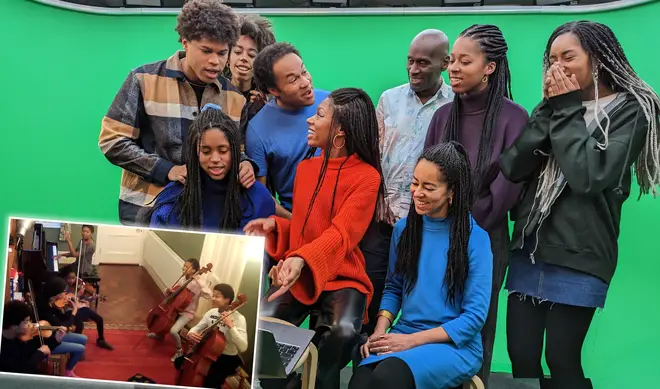 It was one of the most-viewed classical music videos of the 2010s. Now, eight years later, with a mixture of amusement and apprehension, the Kanneh-Mason parents and siblings watch it again.
It was a video that captured something very special – an incredible group of musical siblings, effortlessly playing a breathless, virtuosic showpiece.
An iPhone video of their own arrangement of Monti's 'Czardas' one of the family's first truly viral moments. After over 12 million of views on Facebook, the family's depth of talent and passion for music-making became known the world over.
Mum, Kadiatu, and dad, Stuart, did the filming, as the six children played. Isata, Braimah, Sheku, Konya, Jeneba and Aminata all were in full musical flow. Only Mariatu, the youngest of the family, was not at an instrument that day.
The Kanneh-Masons were all at Classic FM to prepare for their new series, The Kanneh-Mason Family Takeover, when they gathered to revisit and react to the video.
The now-aged home décor, fashion choices, and who was teaching who at the time – they're all there to be litigated in this filmed family forum. With a family-sized dose of laughter and embarrassment, here's what they thought as they watched it again...
Read more: Classic FM welcomes the entire Kanneh-Mason family to host their first ever radio series
The Kanneh-Mason family react to their very first viral video | Classic FM
The video was first released in 2015. In that same year, the siblings rose to national stardom as they competed together on Britain's Got Talent.
A few years later, Sheku went global in his performance at the royal wedding of Prince Harry and Meghan Markle, recording contracts for the entire family flowed in, and a place in Britain's music history was made. And this is where is all started.
Here's the original, if you want to relive the 2015 magic. What an incredible performance!
Monti's Czardas played by The Kanneh-Masons
In their new Classic FM programme, all nine members of the immensely talented musical family make their debut radio series together. They will all share their favourite classical music and the pieces which have inspired them throughout their lives.
The Kanneh-Mason Family Takeover begins on Sunday 26 February at 9pm, with all episodes available to listen to for an extended period on Global Player.