'I'm a bit shocked' – 14-year-old treble Malakai Bayoh on his Britain's Got Talent success and rise to fame
11 August 2023, 18:40 | Updated: 17 August 2023, 13:57
Malakai Bayoh to Aled Jones: 'I'm a bit shocked' by Britain's Got Talent stardom | Classic FM
The singer who won the hearts of the nation on Britain's Got Talent talks to Classic FM about his amazing music adventure, and how life has changed.
What's Malakai Bayoh doing now? We met the sensational singer who, at the age of 14 is riding the most incredible musical wave.
In an exclusive interview, the young singer spoke to someone uniquely qualified in the realm of boy treble stardom: singer and Classic FM presenter Aled Jones. Now a tenor, Aled found international fame with his young voice in the 1980s. Watch their conversation above or here on Global Player.
The pair first met in Christmas 2022, when they sang 'O Holy Night' and 'Walking in the Air' together in duets that would go viral with over 25 million views.
Malakai sat down with Aled at the historic St Mary le Strand church in London, where he recorded a stunning duet version of the hymn 'Amazing Grace' with harpist Cecily Beer.
Aled couldn't resist the chance to pop into the church and say hello, and a magical conversation about the young treble's rise to fame rise to fame took place.
Read more: Who is Malakai Bayoh? Get to know classical music's new star treble
Malakai Bayoh sings angelic 'Amazing Grace' in a stunning London church | Classic FM
Aled began by greeting the younger singer with a handshake perfected at their previous meeting.
The older vocalist then offered his congratulations to the 14-year-old who had just released his debut album, Golden, which came hot on the heels of his Britain's Got Talent success.
"I didn't even think that I would be making an album or anything, so it was unbelievable," Malakai told the Welsh tenor.
Aled asked Malakai about the music he most loves to perform, and the likes of Mozart, Puccini and Handel came out top. "Opera is probably my favourite," Malakai related. "Because it's just really fun to sing and there's a lot of different characters that you can play."
Malakai first came to national prominence less than a year ago in November 2022, when he made his solo debut at London's prestigious Royal Opera House. So it seems natural that the genre remains close to his musical heart.
Read more: Star treble Malakai Bayoh sings 'Benedictus' from the iconic roof of St Paul's Cathedral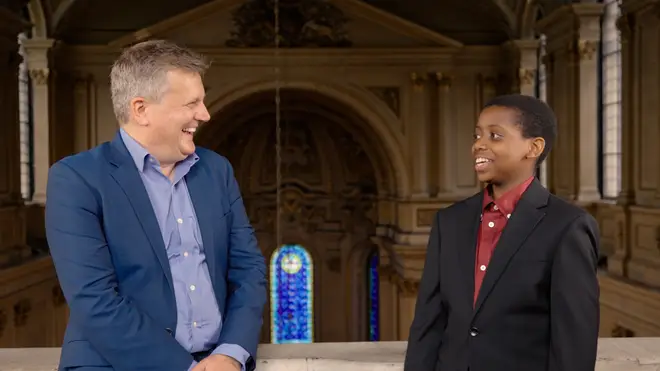 Aled himself found huge fame with his treble voice in the 1980s. The two singers joked about the unique traits of their early singing careers, and in particular, their devoted and protecting mothers, doing everything possible to keep their teenage boys safe and well. "[My mother] always makes me wear like 50 scarfs to keep my neck warm," the 14-year-old laughed.
Another highlight from a whirlwind 2023 for the young treble, was taking to the legendary stage of the Royal Albert Hall, and singing before an audience of 5,000 at Classic FM Live, with the orchestra of English National Opera.
"That was amazing," the young singer said, still seemingly unfazed by the thought of the moment. "You could just feel the force of all the instruments playing."
13-year-old treble Malakai Bayoh sings virtuosic Mozart in Royal Albert Hall debut | Classic FM
From 5,000 pairs of eyes to millions. In April, Malakai appeared on Britain's Got Talent singing the beautiful 'Pie Jesu' from Andrew Lloyd Webber's Requiem. It was a performance that prompted Simon Cowell to press the competition's famed Golden Buzzer. "[You have] one of the best voices I think I've ever heard," Cowell declared.
Malakai would go on to star in the final of the 2023 competition, collecting an audience prize along the way.
The teenage treble said that after his Britain's Got Talent triumph, he began getting noticed on the street. "It wasn't annoying but it was fun because it gave me an ego boost!"
Read more: Malakai Bayoh sings operatic song 'Caruso' with shining high notes in Britain's Got Talent final
Malakai Bayoh sings a stunning 'O Holy Night' duet with Aled Jones | Classic FM
Malakai's new album from Universal and Classic FM, Golden, has already been featured as the station's Album of the Week, shooting to the top of the charts.
With an already impressive career, from the stage of the Royal Albert Hall to Britain's Got Talent, and a chart-topping debut album, Aled asked the young singer what he made of it all.
The 14-year-old replied with his trademark smile and humbleness. "If you told me six months ago that all of this would [happen] then, like, I probably would have been a bit shocked."