Treble Malakai Bayoh sings sublime Handel aria to 5,000-strong audience at Royal Albert Hall
20 April 2023, 19:04 | Updated: 26 May 2023, 10:03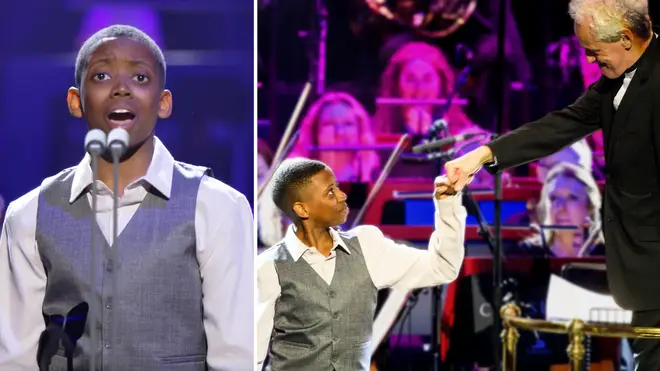 The nation's new star singer, and an unforgettable debut in front of a rapt audience of thousands...
It's been quite a week for 13-year-old singer Malakai Bayoh. Last Wednesday, he made a solo debut on one of music's most historic stages, the Royal Albert Hall in London.
Then on Sunday, televisions around the nation were tuned to his first performance on Britain's Got Talent and an unforgettable press of the Golden Buzzer from the usually inscrutable Simon Cowell.
Bayoh and his incredible voice are taking the music world by storm. In just a few days, videos of his performance of Mozart's 'Alleluia', also recorded at Classic FM Live with Viking, has been viewed over two million times across social media.
But before that flurry of Mozartian notes, this was the moment when stepped up on that hallowed stage to sing the Handel aria 'Lascia ch'io pianga'.
The hall stilled, and thousands waited to hear his voice for the first time.
The nerves must have been there for Bayoh, but there's also a look of musical determination and resolve from the teenager.
Read more: 13-year-old treble Malakai Bayoh stuns with virtuosic Mozart in Royal Albert Hall debut
Young treble Malakai Bayoh's astounding Handel solo debut | Classic FM Live
In the performance (watch above) Bayoh is accompanied by the orchestra of English National Opera and conductor Paul Daniel.
Beginning such a high-profile debut with such a slow, delicate aria is a true feat. Handel's long lines expose all parts of the voice and put very little between artist and audience – but the young man's composure, coolness and sheer musicality shine as radiantly as those high notes sound.
As is customary in Baroque music, towards the end of the aria, Bayoh decorates the music with beautifully pitched ornaments, adorning the music as his voice rings through the hall.
After a sublime four minutes, the orchestra plays the final hushed chords, and the arena erupts.
What incredible scenes, and what a remarkable talent.
13-year-old treble Malakai Bayoh sings virtuosic Mozart in Royal Albert Hall debut | Classic FM
Relive the full magic of Classic FM Live by listening to the full concert on Global Player and on Sky Arts soon.