York Minster sacks all of its bell ringers, no peal to welcome in Christmas morning
14 October 2016, 17:09 | Updated: 14 October 2016, 17:20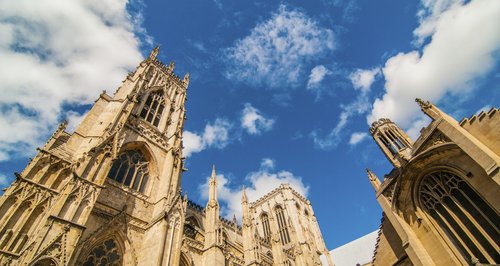 Every year since the Middle Ages the 56 bells of York Minster have marked Remembrance Sunday and Christmas – but this year the historic bells won't ring out because all of the Minster's bell ringing volunteers have been sacked.
Earlier this week the volunteer bell ringers received a letter from the Rev Canon Peter Moger. He said: "All current bell ringing activity will cease at the Minster… all current volunteer agreements relating to bell ringing at the Minster will be closed with immediate effect.
"In due course, following the appointment of the Head Bell Ringer, applications will be invited from everyone interested in joining the new bell ringing team."
The locks on the tower doors have also reportedly been changed.
A petition calling for the Minster to allow the bell ringers to ring on Remembrance Sunday, Christmas Day and New Years Eve has attracted over 5,000 signatures.
Here are the bell ringers in action
Alice Etherington, who created the petition and is one of the bell ringers said: "The minster has suspended all bell ringing with absolutely no prior warning. The bellringers are very loyal volunteers who give up hours of their time ever week to keep this tradition going…
"Christmas and New Year's Eve are such special times of year… residents and tourists of York alike adore the iconic sound of our bells. We request that the Minster honour tradition by allowing the ringers to ring."
In a letter to the Dean of York Minster, the Very Reverend Vivienne Faul, Ringing Master Peter Sanderson said: "The Minster bell ringers are a happy, united, vibrant, skilled and dedicated team which has grown and evolved over the past forty years to become the envy of many cathedrals and parish churches across the country…
To see this wonderful team discarded by Chapter on Tuesday evening with no warning and in such a brutal fashion was heartbreaking beyond measure."
A spokesperson for the Minster told the Guardian: "It is critically important to ensure that there is a consistent approach to health and safety, governance and risk management across all of our volunteer teams. In order to make these changes, we sometimes need to close existing volunteering roles so that we can move forward with the new processes. This is what has happened with our bellringers.
"It also means that the main bells will be silent until we have recruited a new team in the new year. We recognise that this will be disappointing for the current team. However, they will be free to apply for the new roles as they become available."
The Minster's small Carillon bells – which are operated from a keyboard and only require one ringer – will continue to play while the Minster's bells are silent.