Haunting voice of a 3,000-year-old mummy heard for the first time
24 January 2020, 13:57 | Updated: 24 January 2020, 16:13
The Egyptian priest has laid silent for over three millennia – but now scientists at London's Royal Holloway University have recreated the sound of his voice.
The voice of a 3,000-year-old mummy has been heard for the first time in a groundbreaking new study from Royal Holloway University, London.
Published yesterday in the Scientific Reports journal, the study describes how scientists accurately reproduced a vowel-like sound 'based on measurements of the precise dimensions of his extant vocal tract'.
Previously known to his peers as Nesyamun (determined through inscriptions on his coffin), the mummy had been an Egyptian scribe and 'waab priest' (high priest) living during the politically volatile reign of pharaoh Ramses XI (c.1099-1069 BC), working at the state temple of Karnak in Thebes.
Similar to modern priests, Nesyamun's voice was a crucial part of his ritual duties, with singing taking up a great deal of his time.
Now, thanks to Computed Tomography (CT) scanning at Leeds General Infirmary, it has been possible for scientists to form a 3-D printed vocal tract that perfectly matched his own.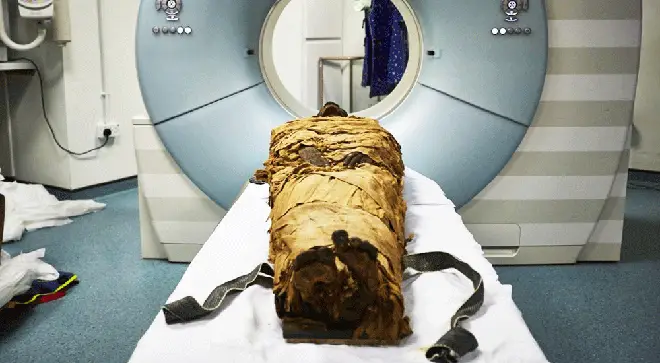 By using the printed 'Vocal Tract Organ', which provides a user-controllable artificial larynx sound source, Nesyamun's voice could be heard today.
The scientists couldn't have achieved the same results with an individual whose remains were skeletal, as they required perfect preservation of the soft tissues resulting from Nesyamun's mummification.
When a long dead person's tissues do survive, their vocal tract can often be missing or destroyed, highlighting the special nature of this particular study.
Since Nesyamun's voice was recreated, the 'Voices from the Past' Project has been set up and this may enable scientists to investigate other notable figures.
Collections to Inspire: The mummy of Nesyamun
Joann Fletcher, a professor of archaeology at the University of York and a co-author of the study, said it was the priest's "express wish" to be heard in the afterlife, which was part of his religious belief system.
"It's actually written on his coffin – it was what he wanted. In a way, we've managed to make that wish come true."
In future, Professor Fletcher and the scientists hope to continue their research and "generate words and string those words together to make sentences."
According to recent studies, it seems Nesyamun had died in his mid-50s, and had suffered from gum disease and severely worn teeth. His remains are currently on display at Leeds City Museum.