Susan Boyle sang with Michael Ball at the Britain's Got Talent 2019 finale – and fans weren't impressed
4 June 2019, 12:45
Someone on Twitter described SuBo and Michael Ball's cover of 'A Million Dreams' as like 'your drunken auntie and uncle at a wedding karaoke'. Ouch.
Susan Boyle appeared on stage at the live final of Britain's Got Talent 2019, gave a bit of a pitchy performance with duet partner Michael Ball – and the Internet, predictably, was not kind to them.
Their rendition of 'A Million Dreams', from 2017's box office hit The Greatest Showman, left viewers blaming Ball for 'ruining' Boyle's performance.
One Twitter user said: "They should have just let SuBo sing on her own. He's butchering this song", while another claimed Boyle "was doing OK until [Ball] joined in."
"Ouch, individually Michael Ball and Susan Boyle are brilliant, together it was a complete car crash," another viewer wrote on Twitter.
Well Michael Ball and Susan Boyle went as well together as a glass of Coca-Cola and milk #BGTFinal

— Tony Shepherd (@tonysheps) June 2, 2019
However, not everyone sided with the 2009 Britain's Got Talent runner-up.
Which songs does Susan Boyle cover on her new album, TEN? >
One Twitter user said: "Sorry but a musical theatre legend like Michael Ball should not need to share the stage with the likes of Susan Boyle! He carried her through that entire performance and had to battle with her flat notes."
Another commented: "Confused why everyone's blaming Michael Ball for that performance when it was Susan Boyle who was completely off key when he came in."
Yikes.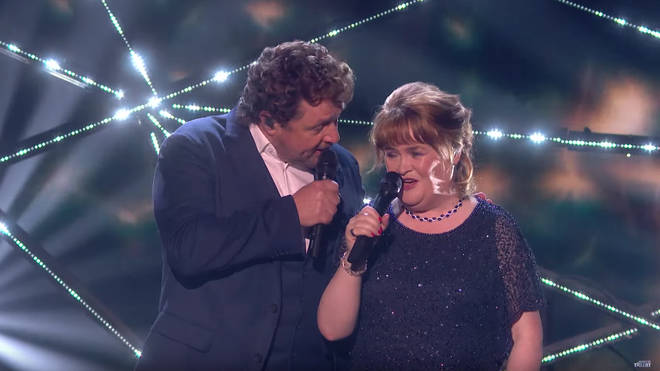 Either way, it seems Ball and Boyle didn't get the reaction they were hoping for.
Perhaps Ball and Boe should stick to their original line-up, leaving SuBo to enjoy her solo career. It might be for the best...