West Side Story orchestra plays virtual 'Something's Coming' with Broadway's Tony
12 May 2020, 10:22 | Updated: 12 May 2020, 10:24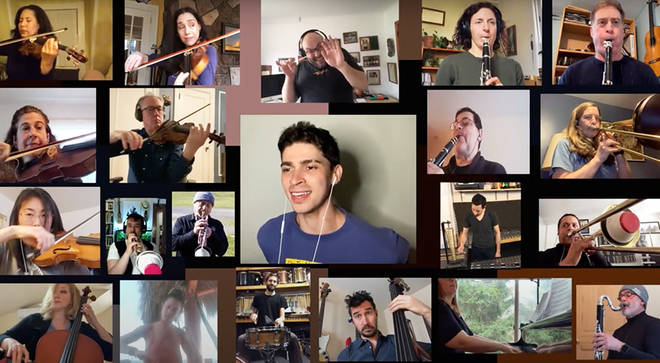 These trying times are being filled with some very special moments of music.
A virtual rendition of 'Something's Coming' has been recorded by the West Side Story Orchestra alongside musical theatre star Isaac Powell, who plays Tony on Broadway.
Powell, who starred in the 2020 Broadway revival of West Side Story, sings the famous show orchestra tune alongside varying combinations of percussionists, string, wind and brass players, who all recorded their parts separately in their homes.
There's something special about this virtual recording. In a Broadway or West End show, the orchestra is always hidden in the pit, under the front of the stage – but here, Powell wanted to give players a moment in the limelight.
He said: "I saw this video as a special opportunity to credit all the orchestra members whose hard work you always hear, but whose faces you don't often see."
Read more: West Side Story 2020 remake by Steven Spielberg – cast and soundtrack >
The performance was organised by lead trumpeter Dominic Derasse, who said:
"It is always hard to see the light at the end of a tunnel and even more so, that of a tunnel we've never been in before. 'Something's coming, something good!' would be good to keep in mind looking to a much brighter time when all this is over."
We saw a similar show from the West End's Phantom of the Opera orchestra, who recorded a virtual 'All I Ask of You' alongside Andrew Lloyd Webber, after seeing a tweet from the composer playing the song in quarantine.
West End and Broadway shows are currently expected to remain closed until 2021 due to coronavirus social distancing measures, following an interview UK theatre producer and owner Cameron Mackintosh gave last week.