Phantom of the Opera orchestra records virtual 'All I Ask of You' response for Andrew Lloyd Webber
2 April 2020, 11:19 | Updated: 2 April 2020, 15:47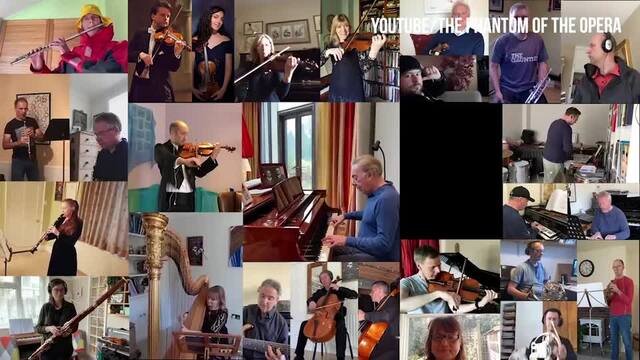 All I Ask Of You | Phantom London Orchestra
These trying times are being filled with some beautiful moments of music.
The orchestra from the West End's Phantom of the Opera has recorded a virtual performance of 'All I Ask of You' alongside Andrew Lloyd Webber, after seeing a tweet from the composer playing the song in quarantine.
Lloyd Webber's original video, which now has 4.2m views on Facebook, showed him playing Phantom's famous operatic pop duet on his home piano.
"I didn't think I'd ever get such a response to this little try-out," Lloyd Webber says in the video, referring to a previous post in which he asked followers "which ALW musical number" they'd like to see him play.
"Here I am in my enforced self-isolation, and the song that came out on top today was 'All I Ask of You'. Oh gosh, all I ask is that I can play the piano properly this morning. We'll see what happens." Watch the original video below.
Read more: Family recreates 'One Day More' from Les Mis in quarantine spoof >
As a response to this, every member of the Phantom orchestra individually contributed a video, audio or photo from isolation "to show their support and respect for Andrew".
Particular respect for the trombonist, who played in a Phantom mask (watch video at the top of the page).
A message at the end of the video reads: "Stay safe, that's all we ask of you – with love from all of the Phantom Orchestra".
Lloyd Webber reposted the orchestra's musical response on Facebook, saying he was "incredibly touched" by their creation. "It's absolutely brilliant, thank you very much," he wrote.
The Phantom of the Opera is one of many musical theatre productions to have temporarily brought the curtain down, as theatres around the world are forced to close in a bid to control the spread of coronavirus.