Family recreates 'One Day More' from Les Misérables in hilarious quarantine spoof
31 March 2020, 10:37 | Updated: 1 April 2020, 16:35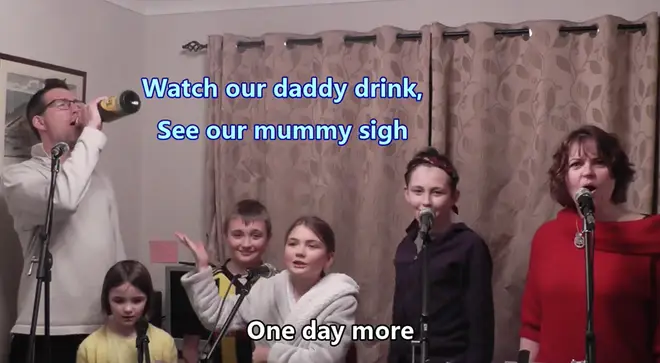 "One more day of online school (will we get a change of clothes?)..."
As families, friends and couples across the UK adapt to life in quarantine, one family decided to bring some much-needed musical joy to an uncertain time.
In the video (watch below), the Marsh family from Faversham, Kent, perform the massed choral number 'One Day More' from Les Misérables, with some cleverly adapted lyrics.
"One Day More, another day another destiny," the parody begins. "Shopping for online delivery. I tried again only to find there's nothing til September time, one day more..."
Dad Dr Ben Marsh, a history lecturer at the University of Kent in Canterbury, told KentOnline the family had been "overwhelmed" by the reaction to the video, which has 3.5 million views on Facebook.
"It has been a bit of a strange day. We obviously hit a nerve," he told the publication. "We always get together and do singalongs anyway and the kids play instruments.
Read more: Talented family sings epic 'One Day More' in living room karaoke >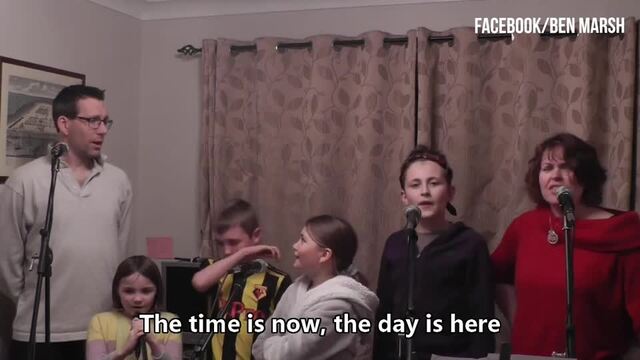 Family's Les Misérables parody goes viral
"We have never been able to do a song from Les Mis as the boys don't want to sing romantic parts," he continued.
"It pulled on all the experiences people had been complaining about – like not being able to work or play football – and it just seemed to fit really well with the song."
Take the quiz: Which character from Les Misérables are you? >
Dr Marsh said his children – Alfie, 13, Thomas, 12, Ella, 10, and Tess, eight – have starred in a few school productions but otherwise have no musical theatre training. He and his wife Danielle Marsh, he added, have no background in music.
"There have been messages from people who are self-isolating, or even people with cancer on hospital wards, saying it has made them smile or cry," Dr Marsh said of the reaction to the video.
"We really weren't expecting it and we are really touched by the way it has resonated with people. Hopefully it will give parents an idea of how to keep the kids occupied – besides doing Joe Wicks or watching Netflix."
Thank you to the Marsh family for bringing us music and laughter. In times like these, we need both.