The time a presenter accidentally dropped his microphone INTO a sousaphone
9 October 2019, 16:36
Cory McCloskey vs. a tuba
This Fox newscaster got a very fast lesson in the perils of marching band reporting…
Let's all take a moment to remember the glorious time a Fox presenter accidentally dropped his microphone into a teenager's sousaphone, during a live TV broadcast.
Cory McCloskey was on a visit to Phoenix Arizona's Desert Vista High School, when he decided to approach a sousaphone player at the back of the school's marching band.
"You know I love the tuba," Cory grins to the camera. "It's one of my favourite instruments."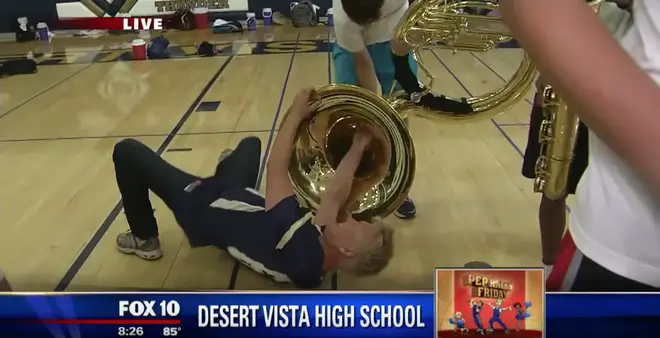 Cory then tries to hold his microphone into the bell of the tuba sousaphone, but somehow drops it all the way inside.
Read more: This epic 'Star Wars' sousaphone battle is all kinds of brilliant >
Tuba-sousaphone confusion aside, it was never a good idea to try and get that close to the mightiest brass instrument of all.
Enjoy the moment, and the awkward retrieval of said microphone, in the video above.