Sousaphone player trolls a passing KKK march by giving them a soundtrack
18 August 2017, 16:13 | Updated: 18 August 2017, 16:27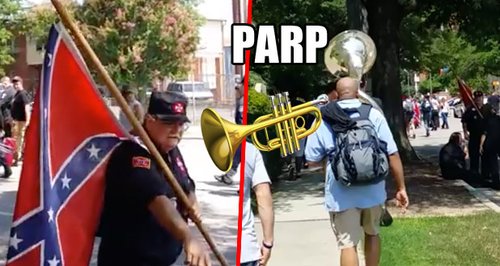 A sousaphone player has caused much hilarity in America by playing humorous music alongside a march by the Ku Klux Klan.
The march, which took place in Columbia in 2015, was organised to protest the ban on using the Confederate flag in America.

The interfering sousaphone player insisted on following and accompanying the protestors with some ungainly comedy marching music.

He also played Ride of the Valkyries which, seeing as it's by the notoriously intolerant Richard Wagner, seemed an odd choice. But still – hats off to Mr Sousaphone for an excellent use of his instrument.
We're just glad they didn't try to take his sousaphone away from him…