Vocalist sings an ancient hymn in an empty Pantheon-style church, with awe-inspiring 6-second acoustic
10 August 2020, 17:44 | Updated: 1 July 2022, 17:16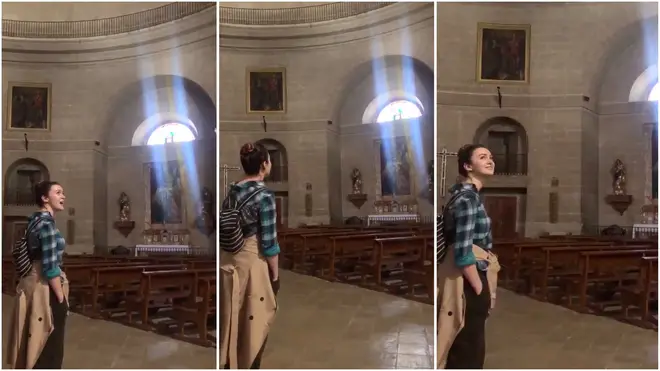 Chills are guaranteed in this performance filmed in a 14th-century Spanish church
Sometimes the most powerful things are the simplest: a singer, an ancient hymn and an empty church.
Singer and YouTuber Malinda says this was "a truly incredible moment in my life". It's also a moment of music that has touched millions since it went viral on Facebook in 2018.
The footage was recorded during a visit to the 'Iglesia de la Encarnacion' church in the town of Montefrío, Spain. Malina and her family found the vast, circular church empty. She sang one note, and counted the incredible six-second swirling acoustic.
When a singer is in a beautiful, empty church, there's only one thing to do... Watch as Malina sings the ancient plainchant melody Ave Maris stella.
Read more: When two musicians found an abandoned country church, they knew what to do… >
Plainchant is among some of the earliest forms of western music. Over the centuries the simple but beautiful solo lines have been sung by monks, nuns and centuries of cathedral singers. You can listen and follow the shape of the medieval notation (called numes) here:
After the viral moment, Malinda told the story of the chance encounter with the beautiful space. The singer was on a family holiday in Spain when flooding meant they had to change plans. They travelled to the mountain town to take in the reputed views, but were also drawn to enter the church.
Malinda told the entire, remarkable story later on her YouTube channel. Also, listen out for some incredible chords in the acoustic.
the story of my most viral video (crazy acoustics church)