How to make a recorder out of a CARROT
9 February 2018, 12:32 | Updated: 10 February 2018, 16:12
Why learn to play a real instrument when you can play a simple root vegetable! Here are the 37 steps involved in making a recorder out of a carrot.
Sarah Jeffery is a recorder player from the Royal Birmingham Conservatoire, and Tim Cranmore is a recorder-maker with over 40 years of experience in the recorder industry. Together, they have created this step-by-step guide to making a recorder out of a humble carrot.
Follow Sarah's channel on YouTube here
Because 37 is just too many to take in at once, here are the seven main steps involved in making the instrument...
1. Find a big, straight carrot
If you're a recorder connoisseur, Tim advises to find a carrot roughly the size of a Wide-Bore Sopranino recorder in G. If you have no idea what that means, just look for a big, relatively straight carrot, like this one: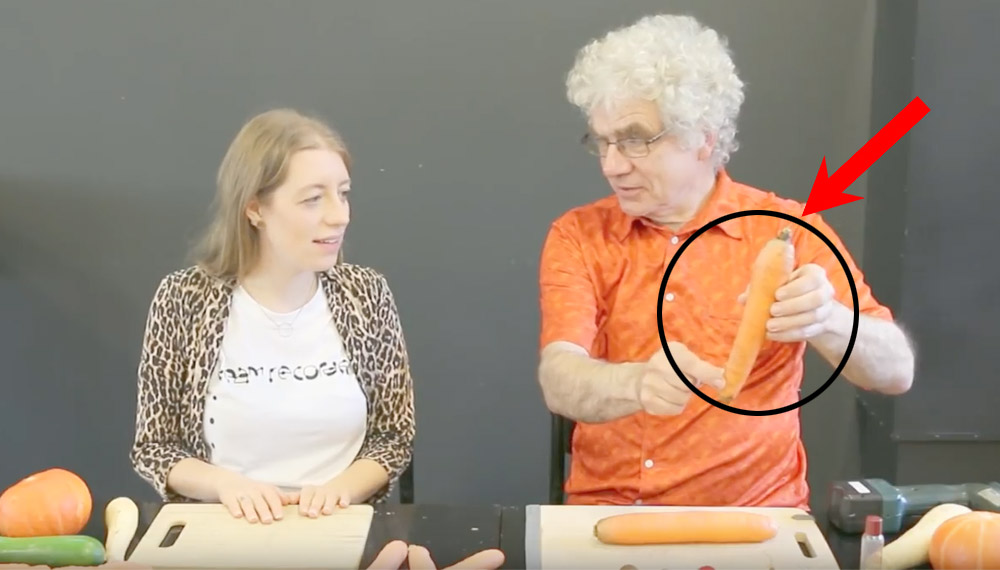 2. Drill a hole through it
Hold the carrot in one hand, and drill right down the middle with the other. Use a large drill bit on one end, and a small bit on the other, so the hole tapers through to the middle. Then, pop out the remaining bits of carrot by blowing through it. Now, you have a windway.
Lovely stuff.
3. Then, pop out the window
Use a special tool (watch the video to see all the tools) to pop out a window, just below the top of the carrot.
4. Make a block to fill the windway
Use a second carrot to make a recorder block, using an apple corer. Then, put the block inside the opening of the carrot.
"Don't use carrot recorders as practice for making wooden recorders. Do it the other way around!" Tim cries.
5. Make the finger holes
It doesn't actually matter where the finger holes are, Tim says. It's the size of them that's really important – and where they are on the instrument is just about comfort.
6. Adjust the tuning
To adjust the tuning, make the finger holes bigger with a drill bit. "Tuning one of these things, it's like free-form tango. You get the thing to work, then you dance round it and dance round it," says Tim.
7. Play a tune!
'Oh When The Saints' is a classic – or if you're feeling confident, why not have a bash at Prokofiev's Sonata in D?
Feeling ready to try it out at home yet?
Tim's carrot masterclass joins several professional concerts, workshops and participatory events taking place at the Royal Birmingham Conservatoire between Thursday 15 and Sunday 18 February as part of the second Birmingham International Recorder and Early Music Festival! Find out more here.
Here's more from Sarah - an introduction to the wonderful world of Renaissance recorders...