Exclusive: Watch Katie Melua's new recording of The Little Swallow
19 October 2016, 09:00 | Updated: 19 October 2016, 09:02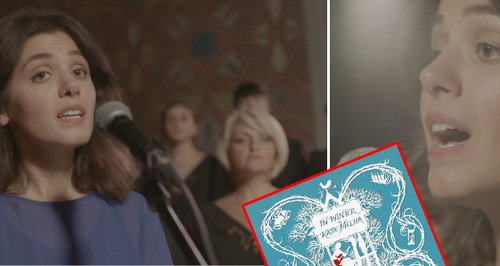 On her latest recording, the singer is joined by the Gori Women's Choir for this heart-stoppingly beautiful Ukrainian carol – and you can watch the performance exclusively here
Katie's new album, 'In Winter' is something quite different for the singer, who is best known for songs like 'The Closest Thing to Crazy' and 'Nine Million Bicycles in Beijing'.
She's joined by the Gori Women's Choir, from Georgia, for an album of music that includes this beautiful Ukrainian carol – and even some Rachmaninov (you can watch a video of that here).
'The Little Swallow' is a Ukrainian Carol – though you might recognise the music from its American arrangement as the 'Carol of the Bells'.
Katie said: "It felt right to sing the piece in its original language, plus Ukrainian belongs to the eastern Slavic languages and is close to Russian which is widely spoken throughout Georgia. I knew we had a better chance at pronouncing Ukrainian than English with the choir.
"But to be sure, we rang round to see if there were any Ukrainians living locally and it turned out the Mayor of Gori had a Ukrainian wife. She kindly came to visit us in the studio to give us any pointers on the vowels and consonants pronunciations."
The choir is conducted by Teona Tsiramua and the video was filmed in the Red Hall at the Georgian National Opera Theatre in Tbilisi.
Katie's new album is out now and available on Amazon and iTunes