Listen to singer-songwriter Katie Melua's haunting new recording of Rachmaninov's Nunc Dimittis
2 September 2016, 19:40 | Updated: 2 September 2016, 19:47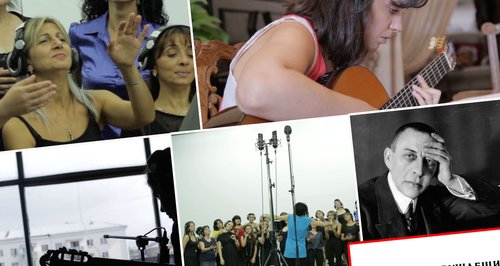 Katie Melua is perhaps best known for her chart-toppers like 'The Closest Thing to Crazy' and 'Nine Million Bicycles in Beijing' – but her latest album includes part of Rachmaninov's mesmerising All-Night Vigil
Katie's new album is called 'In Winter' and came about when Katie first heard a recording of the Gori Women's Choir: "I was mesmerised by their tone and sonic richness," she said. "They are essentially a vocal orchestra."
The singer-songwriter also enlisted the help of composer Bob Chilcott to arrange parts of the album.
Here's a clip from the beautiful new recording
And you can hear the whole beautiful track in Bill Turnbull's show this Saturday – just after 11am. Listen live here
Katie, who was born in Georgia but moved to Belfast when she was nine, set off with 12 boxes of equipment to Georgia with producer Adam 'Cecil' Bartlett. Once there, they built a DIY studio in the Gori cultural community centre and set about making the record.
"There were many unknowns," said Katie, "we weren't established producers; we were building a studio; the choir had never recorded with headphones; Cecil didn't speak a word of Georgian and could I effectively communicate to the choir how I wanted this record to sound?"
They recorded tracks including a traditional Ukrainian carol, 'The Little Swallow', and the Joni Mitchell song 'River' before turning their attention to Rachmaninov.
"I had to have [Rachmaninov's Nunc Dimittis] on the album," said Katie, "it took me close to the mythical notion I have from my youth of the Russian forest, frozen and covered in snow, and of my Granddad's tales of escaping from a Siberian labour camp."
Katie and the Gori Women's Choir are touring throughout the UK from 23rd November. Visit the tour website for more details.