Dame Judi Dench pianist? Legendary actor surprises pub crowd with impromptu ABBA duet
3 January 2023, 12:42 | Updated: 3 January 2023, 13:15
Judi Dench at a pub piano, singing ABBA – what better way to ring in the New Year?
At a pub in Scotland, before the clock struck midnight on New Year's Eve, a Hollywood legend took to the piano for an unexpected duet.
Beloved English actor Dame Judi Dench sat down at the piano with Scottish singer Sharleen Spiteri and delighted hotel guests with a jaunty duo performance of ABBA's hit song 'Waterloo'.
The 88-year-old actor, of Skyfall fame, chimes in with the odd vocal flourish as Spiteri takes the main melody line. "What a pianist!" Spiteri cries to the camera.
The viral performance, which has had over 200,000 views on Twitter, took place at The Fife Arms in Braemar, Aberdeenshire, just before a firework display rang in the New Year.
Read more: A perfect new year gift: this stunning 'Auld Lang Syne' from University College Dublin's choir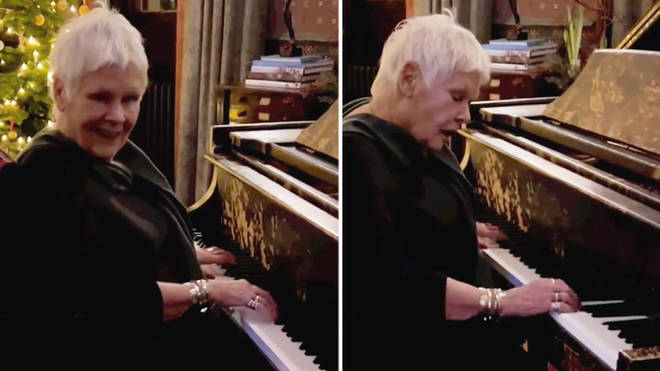 With apologies to those mesmerised by Dame Judi's apparent piano virtuosity, the pub instrument is in fact a self-playing piano. With her customary poise and fingers floating above the keys, the national treasure plays the role of pianist very convincingly. Hey, she won that Academy Award for a reason.
Mezzo soprano Jennifer Johnston quipped: "She's so magical, she carries around a fairy to play notes on the piano when her fingers aren't on them."
Another viewer commented: "Piano has a life of its own. Super funny. She can play that with the power of her brain."
Read more: Lizzo weeps tears of joy as flautist hero James Galway plays her a Christmas carol
Ewan Venters, chief executive officer of Artfarm which owns the pub, told PA Media how the duet came about.
"[Judi and Sharleen] had met previously but after dinner they met in the lobby and took to the piano," Venters said. "Guests were somewhat shocked but loved it!
"Two legends – a Scottish musician, Sharleen Spiteri – and Dame Judi who although born in the city of York is honorary Scot for not least playing Queen Victoria on so many occasions. Mrs Brown was back on Royal Deeside!"
What better musical treat, to ring in 2023.