'He changed our lives': high school alumni return to sing emotional farewell for retiring choir teacher
24 May 2023, 12:58 | Updated: 24 May 2023, 15:19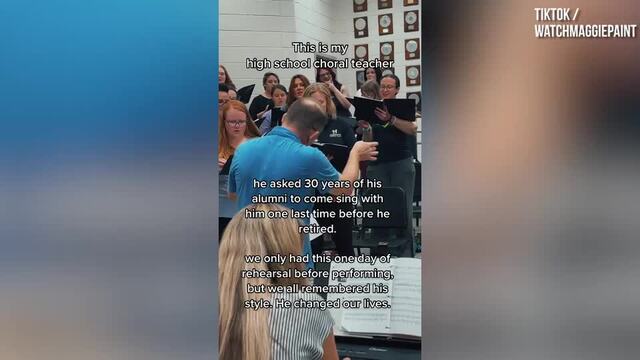 High School choral teacher leads choir in TikTok clip
Decades of graduates returned to their old school to sing with their high school choir teacher 'one last time' as he retires after 30 years of service.
High school choirmaster Jim Stanley has spent 30 years teaching the piano and the chorus at Cartersville High School (CHS) in Georgia, US.
Poised to retire this year, the dedicated educator invited students he had taught over the last three decades back to their high school to share in one last performance under his direction.
"We only had one day of rehearsal," CHS alumnus Maggie Smith Kühn shared on her social media. "But we all remembered his style. He changed our lives."
For the students, the shared memory of singing with their high school teacher was overwhelming emotionally. And the wholesome moment was captured in this video of their rehearsal above.
"Listen to how education lives inside students forever, even after decades," Kühn wrote about the choir's performance on TikTok. "This is what a lifetime of dedication sounds like."
Listen to the Classic FM revision playlist here >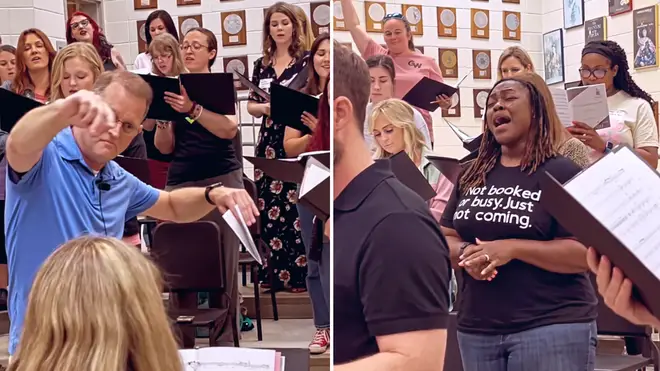 Featuring soloist Lisa Lowe Douglas, the choir performed a work titled 'City Called Heaven', which they later sang in concert, conducted by Mr Stanley.
Speaking about how the alumni choir came to be, Kühn shared on TikTok, "When Mr Stanley retired, he sent out an invite to all his old students, inviting us to come sing and be directed by him for one last day.
"I blocked it in my calendar and didn't work, specifically so I could go to my small home town and sing for one last time with all the people I grew up knowing."
For both Kühn and her classmates, Stanley had such an impact on their lives that many of the former students in the video are now creatives, artists, musicians, and educators. Nearly 100 of his students, now based across the US and Canada, dropped all their plans and returned to the school to sing in concert for him.
"Celebrating Mr Stanley, someone who helped make me what I am, was such a privilege," Kühn wrote on her Instagram page.
"Go hug your teachers, everyone!!!!"
Read more: Can you pass a 16-year-old's music exam?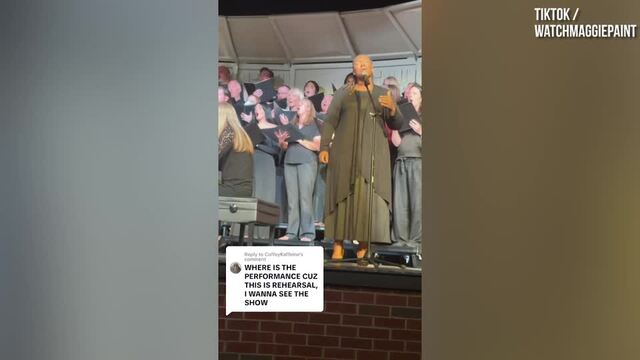 Choir delivers stunning performance in TikTok clip
Stanley, who has made an obvious impact on the lives of his students, also had a similar musical influence during his own childhood.
The retiring 52-year-old chorus leader was previously interviewed by the CHS student newspaper, where he named his biggest musical mentor as his "[chorus] director... she was so amazing."
Stanley told the newspaper in 2021 he "wasn't going to take chorus at all", but after being persuaded by his friends that it would be an easy credit to get in just one semester, he began singing.
"I joined the chorus and then my chorus teacher convinced me to try out for the All-State chorus," Stanley said. "I tried out for All-State, and I made it. So she convinced me to stay for a second semester so that I could actually go to the event."
Read more: Music teacher caught trying to 'secretly' mime along to student's singing recital
Stanley was the only one who made it into the All-State chorus from his school that year. He was driven back from the event by his teacher, who asked, "Did you have fun?". To which Stanley replied, "I want to be a music teacher."
Reflecting on the life-changing moment, Stanley said, "My chorus teacher kind of laughed at me and she said, 'Well, you're only in the 9th grade. You'll probably change your mind before you graduate.' And I never did."
From the viral videos circulating online of the choir director's final performance, we think there are a number of students out there who are glad Mr Stanley didn't change his mind.
From being inspired by your music teacher, to becoming an inspirational educator yourself, this is a beautiful story of how music education really can shape a life. Congratulations Mr Stanley on your retirement!
To continue his impact, many of Stanley's former students have started a scholarship fund in his name to support aspiring music educators. You can donate through the Etowah Scholarship Foundation here.