Curious and loving dog almost ruins a live orchestra concert
21 February 2020, 17:28 | Updated: 23 February 2020, 17:16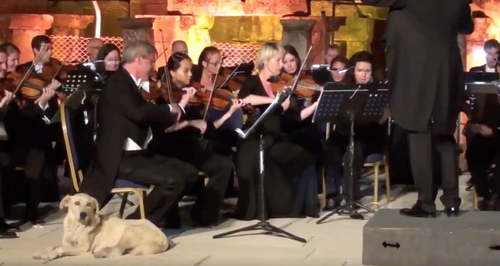 A curious doggo interrupts a live orchestra concert, and makes everything so much better.
The Vienna Chamber Orchestra was halfway through a delightful performance of Mendelssohn's 'Italian' Symphony No.4, in the very picturesque ancient city of Ephesus in Turkey... when someone's pet dog decided to join the party.
The curious Labrador has a sniff around the string section for a bit (watch the video below).
But he eventually decides to make a base at the concertmaster's feet. Who's a good boy.
Read more: Naughty cat disrupts live orchestra concert and steals the show >
The four-legged intruder seems to enjoy the orchestra's performance, conducted by Ola Rudner at the IKSEV festival.
He does indulge in a sneaky yawn at the end, though.
We reckon this good boy's got a pretty bright future ahead of him... perhaps as the Vienna Chamber Orchestra's new mascot?