Watch this epic Disney medley played on rows of plastic bottles
19 July 2019, 10:30 | Updated: 19 July 2019, 10:42
Here's a plastic bottle medley of some of the greatest Disney songs of all time, because the world needs more joy.
With the arrival of all the new live-action remakes (seriously, won't they run out soon?), musical duo Kaboom Percussion decided to reinvent some of Disney's classic songs.
The duo, made up of Perth percussionists Catherine Betts and Joshua Webster, made an entire instrument out of old Coca-Cola bottles for the occasion.
By punching a hole in the cap of the bottle, attaching a valve and pumping each bottle full of different amounts of air, the musicians are able to get different pitches (find out more about the science behind the instrument in the video below).
Disney Medley Behind The Scenes
Betts and Webster's medley, which includes 'Under the Sea' (The Little Mermaid) and 'You've Got a Friend in Me' (Toy Story), and ends with 'Prince Ali' from Aladdin, is a joyous ode to Disney.
Facebook user Tom Beck said: 'This is creative, ingenious and mind-blowingly awesome. Well done to you both and special credit for turning it into a performance and not just simply standing there. I loved every second."
More of all this, please.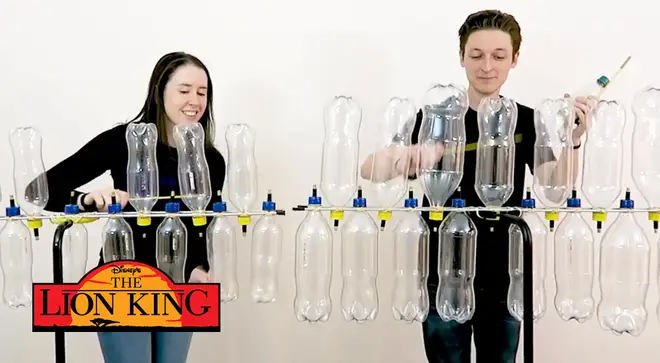 You can watch the full medley above, and here is a full list of songs featured:
'Under the Sea' – The Little Mermaid
'You've Got a Friend in Me' – Toy Story
'I Just Can't Wait to be King' – The Lion King
'Let it Go' – Frozen
'How Far I'll Go' – Moana
'Prince Ali' – Aladdin