Catherine, Princess of Wales plays piano in incredible surprise cameo at Eurovision
16 May 2023, 13:38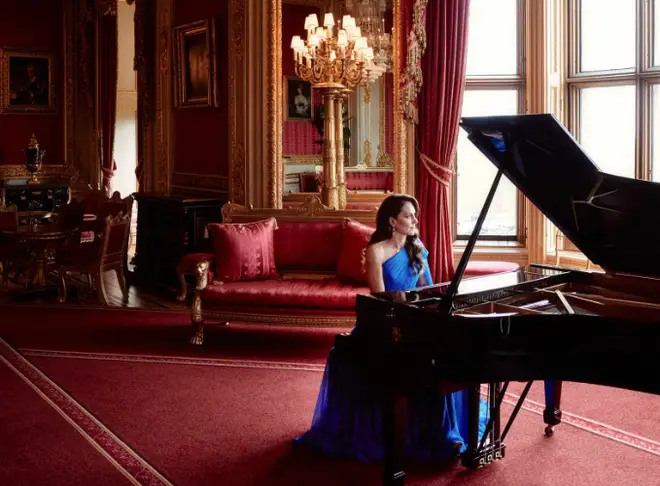 Catherine, Princess of Wales, stunned Eurovision viewers with a surprise cameo appearance playing piano as the song competition finale began.
As is tradition, the grand final of the Eurovision Song Contest 2023 opened with a 'flag parade', as performers from the 26 competing countries assembled in the UK's Liverpool Arena, to a soundtrack of musical performances.
Amongst them: a surprise piano performance from Catherine, Princess of Wales.
This year's theme was a celebration of Ukraine, as Liverpool hosted the event on behalf of the country since the ongoing Russian invasion made it impossible for last year's Eurovision winners to do so.
Read more: Catherine, Princess of Wales is a former pianist with a solid grade 5 music theory
Kalush Orchestra - Voices of a New Generation | Grand Final | Eurovision 2023 #UnitedByMusic 🇺🇦🇬🇧
The performance kicked off with 2022 Eurovision winners, Kalush Orchestra, performing 'Voices of a New Generation'.
The performance blended their winning song 'Stefania' with string quartet, a guitar-shredding solo by 2022 runner-up Sam Ryder atop the city's Royal Liver Building, a ballet performance, and piano cameos from the Princess of Wales and Andrew Lloyd Webber.
Read more: Catherine, Princess of Wales is a former pianist with a solid grade 5 music theory
Wearing a royal blue dress in a subtle nod to the Ukrainian flag, the Princess of Wales played a short segment on the piano against the rich, red backdrop of Windsor Castle's Crimson Drawing Room.
The opening segment also featured a piano performance by the great British composer and musical theatre legend, Andrew Lloyd Webber.
Read more: 'United in Music': Over 500 young musicians perform Ukraine's winning Eurovision entry
Following the broadcast on Saturday 13 May, the Kalush Orchestra released a statement thanking the Princess of Wales for joining their performance.
They also extended an invitation for her to join them on a future tour: "We would definitely like to invite her to tour with us if she would like to pursue a new career in a hip-hop folk band?!"
Read more: What is the Eurovision opening music and how long has 'Te Deum' featured in the song contest?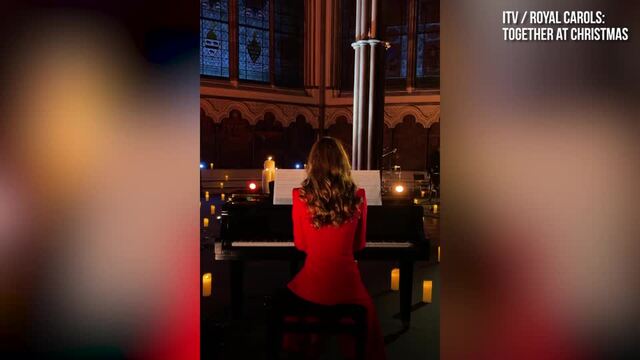 Duchess of Cambridge Kate Middleton teases piano performance on ITV show Royal Carols: Together At Christmas
The Princess of Wales' first public piano appearance was on Christmas Eve in 2021, when she accompanied singer-songwriter Tom Walker in 'For Those Who Can't Be Here' at Westminster Abbey, dedicating the performance to the 'unsung heroes' of the Covid-19 pandemic.
The Princess learned piano as a young girl, taking lessons with Daniel Nicholls between the ages of 10 and 13. She is also known to have achieved Grade 5 in singing and music theory, having reportedly been deputy head chorister in her chapel choir, as well as having played flute in a chamber orchestra and flute choir, alongside her sister Pippa.