Alicia Keys just played two pianos at once in jaw-dropping Grammys performance
11 February 2019, 16:16 | Updated: 11 February 2019, 16:58
Not only did she ace playing two pianos at once, but her performance was a tribute to another legendary double piano player: Hazel Scott.
Last night's Grammy Awards celebrated musicians from all corners of the music industry, but Alicia Keys came out on top when she performed on not one, but two grand pianos.
She played Scott Joplin's toe-tapping 'Maple Leaf Rag' while sitting side-saddle between the two instruments. And everyone on Twitter loved it:
Alicia Keys briefly playing Maple Leaf Rag on piano has literally been my favorite part of the Grammys so far

— Jonny Blades (@_phenomejon) February 11, 2019
Yes, I must say Alicia Keys playing the first section of Scott Joplin's Maple Leaf Rag (on 2 pianos) was very enjoyable! That masterpiece was published 120 years ago and Joplin negotiated a royalty for himself! https://t.co/gt6RX0ArMd

— John Hancock (@johnrhancock) February 11, 2019
Music producer and iconic music mogul Quincy Jones was even seen nodding his head in approval at her performance.
As impressive as the performance was, Keys actually took inspiration from another artist for this performance – Hazel Scott. For those who paid close attention, you will have heard Alicia Keys mention Hazel Scott as she sat between both pianos.
Cardi B's virtuoso pianist just stole the show at the Grammys – and Twitter is obsessed >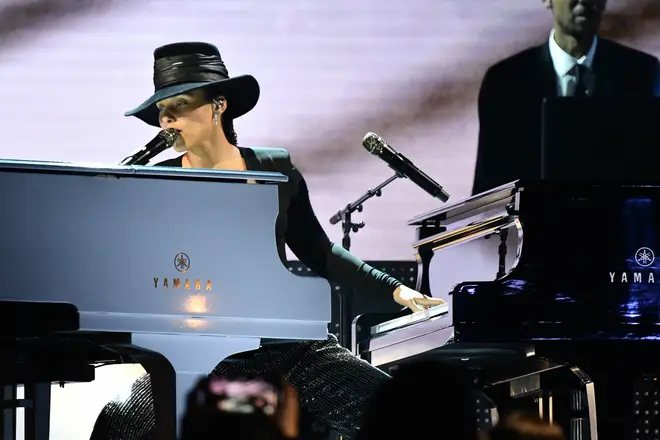 Who was Hazel Scott?
Hazel Scott was a classical and jazz pianist, singer and actress from Trinidad and Tobago.
She was recognised as a musical prodigy and by the age of eight she was studying piano at the Juilliard School on a scholarship. As she rose to fame in the 1930s and 40s, she broke cultural barriers and became one of the first Afro-Caribbean women to take on significant roles in major Hollywood movies.
As well as being the first person of African descent to have their own television show in America, The Hazel Scott Show, Scott was heavily involved in civil rights and she refused to take on film roles that cast her as a black stereotype.
She also became known for playing on two pianos simultaneously. She would sit on a single piano stool with a piano either side, just as Alicia Keys did at the 2019 Grammys.
What a legend.
Takin' A Chance--Hazel Scott