Alexander Armstrong challenged to conduct an orchestra for the first time at top concert hall
11 October 2023, 18:22 | Updated: 11 October 2023, 20:36
Alexander Armstrong challenged to conduct orchestra for first time at top concert hall | Classic FM
It was a 'dream come true' moment – but how did the star of radio and TV do when challenged to direct an orchestra at a moment's notice?
Actor, comedian, TV quiz show host, singer, Classic FM's weekday morning presenter – and now, Alexander Armstrong can also add 'orchestral maestro' to his CV.
It all happened on a somewhat breathless few days, as Alexander scurried around London on a week-long musically-themed charity challenge.
In support of Classic FM's charity Global's Make Some Noise, Alexander first learned of his challenge during last Monday morning's Classic FM show. His task was to conduct an orchestra, for the very first time.
The presenter then hot-footed it to London's Cadogan Hall, where the players of the London Choral Sinfonia were very happy to oblige in a performance of Edvard Grieg's Morning Mood from the Norwegian composer's Peer Gynt Suite No.1.
Alexander had no prior conducting experience and the only preparation was a quick-fire five-minute lesson to the side of the stage from seasoned baton-waver Michael Waldron, who is also founder and artistic director of the London Choral Sinfonia.
Watch how Alexander rose to the conducting challenge above. We think he proved himself an absolute natural. It must be in large part due to his air conducting in the Classic FM studio during his 9am–noon show...
Read more: Alexander Armstrong: Classic FM and Pointless host's family, TV and movies, and singing background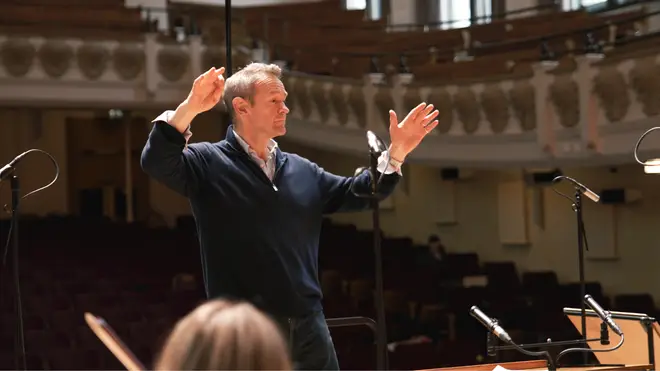 "After years of being conducted as a singer and musician and even more years of longing to be a conductor, I found it – if anything – even more exciting than I had anticipated," Alexander said after the experience.
"With a circle of musicians all pointing towards you, you really are in the best seat in the house."
"Thank you Make Some Noise for allowing this dream to come true – and thanks also to the wonderful musicians for being so patient and indulging me."
The challenge was part of 'Alexander Armstrong's Musical Voyage' for Global's Make Some Noise, supported by Viking. So far Alexander has raised over £100,000 to support the work of small charities around the UK. You can still make a donation in support of the cause.
Alexander said he was thrilled to have the opportunity to conduct the piece twice at Cadogan Hall. "By the second time I was learning to relax and really enjoy it," the presenter said.
"Next time I do it," he added, "I'm going to hurl myself into if fully – expect the full Gustavo Dudamel!"