You can now hear Vangelis' iconic soundtrack to 'Blade Runner' live in concert with a 14-piece band
22 March 2019, 15:39 | Updated: 22 March 2019, 15:53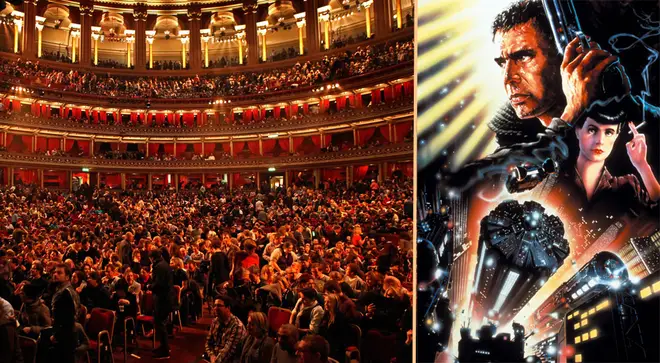 Ridley Scott's epic sci-fi film had iconic status – and now you can hear Vangelis' futuristic score live in concert at London's Royal Albert Hall
The Royal Albert Hall has just announced a one-off screening of the cult classic on Friday 25 October, accompanied by a live performance of the soundtrack. It's the first time the score has ever been performed live with the film.
Fans of the 1982 film Blade Runner will be able to enjoy the soundtrack live in concert with a specially assembled 14-piece synth band.
Written by Greek electronic composer Vangelis, the original score to the film is a combination of dark instrumental melodies and futuristic-sounding synthesisers.
Directed by Ridley Scott and starring Harrison Ford, the science fiction film tells the story of a man whose job it is to hunt down rogue 'replicants' – artificial humans who are so realistic they can hide in plain sight.
Main Titles (From "Blade Runner")
The world premiere is one of two concerts taking place as part of the Hall's Films in Concert series, which celebrates its 10th birthday this year and includes performances of Skyfall, Star Wars: The Empire Strikes Back, and Harry Potter and the Goblet of Fire.
The second concert, Settling the Score, is on Friday 18 October and features beautiful music from composing legends Michael Giacchino (Up, Rogue One) and David Arnold (James Bond, Sherlock).
Lucy Noble, Artistic Director of the Royal Albert Hall, said: "Since we launched this pioneering programme of Films in Concert in 2009, we've had countless requests to stage Blade Runner in concert, so this is a dream come true – both for us and for fans of this one-of-a-kind movie.
"The chance to hear Vangelis's groundbreaking score live and in full alongside the epic movie will make for a simply unforgettable night."
Blade Runner (1982) Official Trailer - Ridley Scott, Harrison Ford Movie
Vangelis' atmospheric soundtrack was nominated for 'Best Original Score' in 1983 at both the BAFTAs and Golden Globes – and is considered to be highly influential in the world of electronic music.
The most prominent synthesiser used was the Yamaha CS-80, which can be heard clearly in the opening scenes, while traditional instruments include the gamelan, gong and tubular bells.
Tickets to Blade Runner LIVE are available now from royalalberthall.com.