Legendary tenor Nicolai Gedda dies, aged 91
10 February 2017, 09:23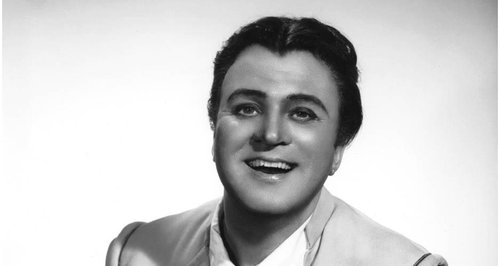 Swedish opera star was perhaps the most widely recorded tenor ever.
News of his death on January 8 was confirmed by his daughter, Tania.
With some two hundred recordings to his name, Gedda was acclaimed the world over for his musical intelligence, and the beauty and control of his voice.
Born on 11 July 1925 in Stockholm, the young Nicolai moved with his family to Leipzig in Germany. They returned to Sweden after Hitler's rise to power. He was raised speaking both Russian and Swedish, and later German.
The well-known Wagnerian tenor Carl Martin Öhman, who also discovered Jussi Björling, enthusiastically took Gedda on as a student and the young tenor's big break came when he auditioned in front of the famous record producer Walter Legge for a proposed recording of Mussorgsky's Boris Godunov.
"He sang the Carmen Flower Song so tenderly yet passionately," said Legge, "that I was moved almost to tears."
Gedda made his debut at the Royal Swedish Opera at the age of 26, performing one of the most difficult tenor arias in all of opera. In the same year he also performed the title role in Offenbach's The Tales of Hoffmann and the tenor role in Richard Strauss's Der Rosenkavalier.
The tenor came to the attention of conductor Herbert von Karajan, who took him to Italy. In 1953, Gedda made his début at La Scala as Don Ottavio in Don Giovanni. The following year, he made his Paris Opéra debut and was given a permanent contract for several years. In 1957, he made his debut at the Metropolitan Opera in the title role of Gounod's Faust, and went on to sing 28 roles in New York over the subsequent 26 years.
Gedda's extraordinary range of recordings included some of the most challenging roles in the entire operatic repertoire. He was singing well into his late 70s, recording the role of the Emperor Altoum in Puccini's Turandot and the High Priest in Mozart's Idomeneo in 2003.
The multi-lingual Gedda had an active parallel career as a recital singer, with an extensive repertoire of French, German, Scandinavian, and Russian songs.
Among numerous accolades, he received the French Légion d'honneur in 2010. He was also a visiting professor at the Royal Academy of Music in London and in 1994 he was made an Honorary Member of the Royal Academy.
Photo: Louis Mélançon/Metropolitan Opera