Stephen Fry to judge new young composers' competition
28 June 2019, 12:12 | Updated: 28 June 2019, 16:39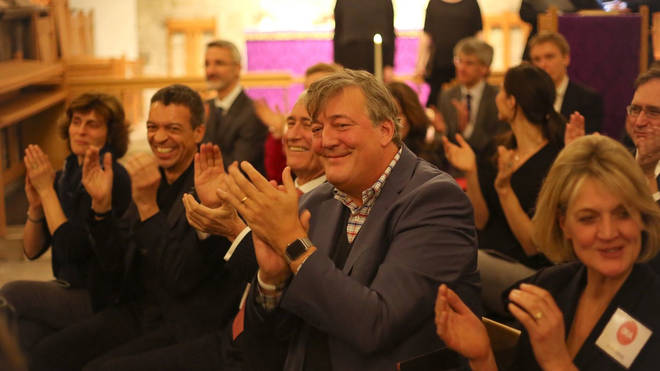 The writer, comedian and actor is helping champion the work of aspiring young composers.
Stephen Fry has been named as one of the judges of a new composing competition run by the Ora Singers.
The choir, whose artistic director is Suzi Digby OBE, aims to commission as much new choral music as it can. And now, it is doing so with the help of the high-profile writer, comedian and actor.
Already president of the choir, Fry is joined on the adjudicating panel by composer John Rutter, Chief Executive of Sound and Music, Susanna Eastburn MBE, and Director of New Music at Edition Peters, Katie Terle MBE.
The competition itself comes in two parts: an 'Open Competition' for anybody to enter, and the 'Youth Competition' which is open to secondary school-aged pupils who, crucially, study at state schools. Ten finalists in the Youth category have the opportunity to hear their work performed by the Ora Singers after one-to-one mentoring with top choral composers, including Thomas Hewitt Jones and Kim Porter.
The brief for the inaugural year of the competition is to write a "reflection of a Renaissance choral masterpiece", which is a regular theme chosen for Ora Singers choral commissions.
Matthew Beale, Chief Executive of ORA Singers, says: "We were sure that there would be a wealth of compositional talent in the UK which, due to an ever-dwindling emphasis on musical education, might not be getting the support it needed."
The entries might be Renaissance-inspired, but they certainly don't lack originality.
Beale explains: "We have been amazed by the sheer imagination and quality of music we have heard from so many of our youth entrants, and choosing just ten finalists was honestly an incredibly hard task."
The thirteen finalists' compositions will be performed by the Ora Singers and conducted by Suzi Digby on Saturday 27 July at King's College, London. Click here to find out more.