Stephen Fry and Joanna Lumley cast their votes in the Hall of Fame
Find out which pieces some of the biggest names around have voted for…
Stephen Fry, comedian
The much-loved comedian and actor is known for his passion for the music of Wagner. So it's no surprise the great German composer is among his Hall of Fame choices.
1. Tannhäuser – Wagner
2. Goldberg Variations – Bach
3. Transcendental Etude – Liszt
Joanna Lumley, actress
Actress Joanna Lumley plumps for a couple of operatic greats for her top three choices. Do you agree with her?
1. Symphony No.3 (Eroica) – Beethoven
2. The Thieving Magpie – Rossini
3. Madam Butterfly – Puccini
Anne Reid, actress
The wonderful Last Tango in Halifax actress told us about her passion for Vaughan Williams, Ravel and Saint-Saëns when she appeared on Charlotte Green's Culture Club. Listen to what she had to say:
1. The Wasps – Ralph Vaughan Williams
2. Tombeau de Couperin – Ravel
3. Carnival of the Animals – Saint-Saëns
Max Richter, composer
Max Richter is perhaps most famous as the composer who re-imagines great works including, most recently, Vivaldi's The Four Seasons. But there's no Vivaldi on his list…
1 Mass in Five Parts – Byrd
2 St John Passion – Bach
3 Symphony No.9 – Mahler
Ji Liu, pianist
The brilliant young pianist Ji Liu has just released his second album – Piano Encores. But he still had time to tell us about his top three pieces. Here's what he had to say:
1 Pirates of the Caribbean – Hans Zimmer
2 I Giorni – Einaudi
3 Für Elise – Beethoven
Noah Stewart, tenor
Star tenor Noah Stewart joined us for a web chat – and we took the opportunity to quiz him on his Hall of Fame choices. This was what he had to say: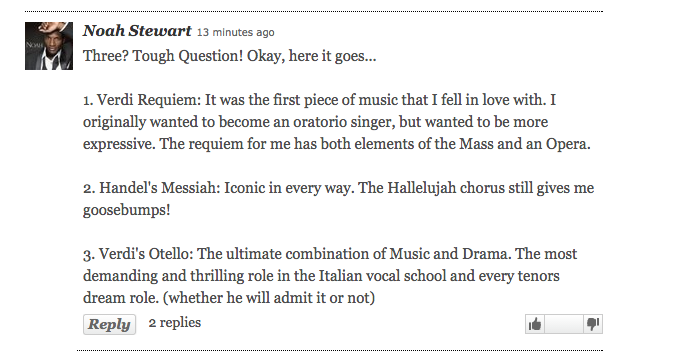 Debbie Wiseman, composer
Debbie Wiseman's music has mot recently been heard as part of the TV adaptation of Hilary Mantel's Booker Prize-winning novel Wolf Hall. She told Classic FM which pieces she'd vote for in the Hall of Fame.
1. Piano Sonata No. 17 in B flat major – Mozart
2. Turangalila Symphony – Messaien:
3. La Mer – Debussy
Alexandre Desplat, composer
Alexandre Desplat's score for Wes Anderson's score for The Grand Budapest Hotel won the Bafta for Original Music this year. But there are no film scores in his Hall of Fame top three. Instead, he's chosen Debussy's Prélude à l'après-midi d'un faune, Mahler's Symphony No.2 and a piece by the Japanese composer Toru Takemitsu, Quotation of Dream. Listen to Desplat talk about Debussy, below.