An incredibly poignant composition for the victims of the Grenfell tower tragedy - for 20 cellos and piano
23 June 2017, 17:14 | Updated: 24 June 2017, 09:29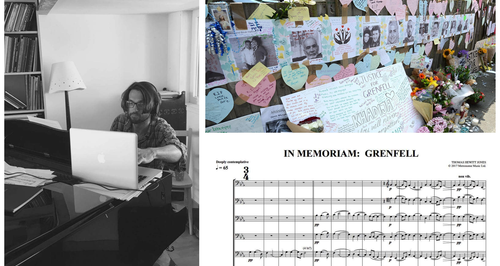 'In Memoriam: Grenfell', by composer Thomas Hewitt Jones.
As London mourns those lost in the Grenfell Tower fire, young composer Thomas Hewitt Jones has been moved to put pen to manuscipt and compose a piece of music.
He describes his 'In Memoriam: Grenfell' as 'a free passacaglia in memory of all the victims'. A passacaglia features lines of melody above a repeating bassline and is often used in music of stillness and emotion. Hewitt Jones wrote the music this week, and recorded the cello and piano tracks himself just a few hours ago.

If you'd like to donate to support the victims and the families of those lost in the fire, you can contribute to the London Evening Standard's appeal here. When the piece appears on iTunes next week, all royalties will go to charity.