Simon Rattle to conduct the LSO in free concert in London's Trafalgar Square
25 June 2019, 10:45 | Updated: 25 June 2019, 13:30
The completely free open-air concert taking place in Trafalgar Square on Sunday 30 June offers a once-in-a-lifetime opportunity to performers and audiences alike.
It's not every day you can rock up and see world-class maestro, Sir Simon Rattle, and the London Symphony Orchestra performing in an iconic location – completely for free.
This Sunday (30 June), Rattle conducts the LSO – one of our partner orchestras – along with guests from Guildhall School of Music and Drama and students from the LSO On Track project, in music by Dvořák, Poulenc, Ravel and Bushra El-Turk.
The programme is inspired by dance, with Dvořák's Slavonic Dances and Ravel's La valse at the centre. There will also be a world premiere of a brand new work by London-based composer, Bushra El-Turk.
El-Turk's work, Tuqus, is inspired by Middle-Eastern ritual dance and composed especially for the London Symphony Orchestra, students from Guildhall and the 55 young musicians from East London taking part in LSO On Track.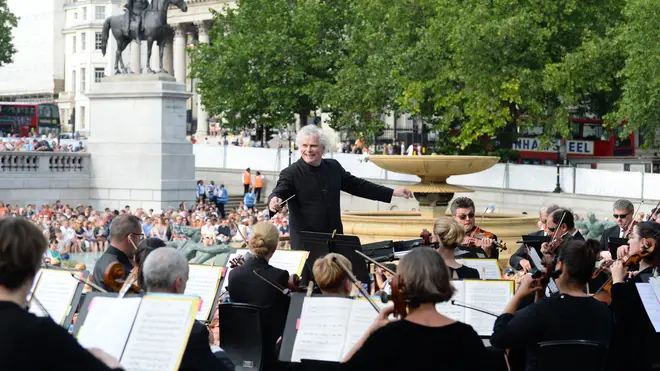 "Tuqus means 'ritual' in Arabic and it evokes the spirit of zaar, which is a community healing, trance-like ritual of drumming and dance", El-Turk explains. "The tradition is carried mainly by women in secret hideaways and regions such as Egypt, East Africa and Southern Iran.
"The ritual, sometimes lasting up to a week, is performed in a space where women can work out their extreme frustrations and tensions felt around the social constraints that limit their movement, dress and voices in society."
"Tuqus shows us the turmoil that is going on inside the body through music."
The piece was written with the multi-ability of the players in mind, with three levels aimed at Grade 4+, Grade 6+ and the professional level of the Guildhall and LSO musicians. Watch the young LSO On Track musicians rehearse the work below.
El-Turk describes working with Simon Rattle for the project as "a dream".
"He's so full of wisdom and knowledge, and is really open," she enthuses.
"It's so important to have that kind of artistic dialogue with a conductor. And he's so down to earth at the same time, which you don't always get. It's quite magical in that sense."
El-Turk is also delighted about having had a specific orchestra in mind when writing the piece.
"It's inspiring knowing the musicians when you're writing a piece, rather than just a blank symphony orchestra," she explains. "It's collaborative and very different from the usual expectations of writing for a Western line-up or classical musicians. I have a brilliant project manager, Beth, who helps to facilitate a really open and constructive working relationship."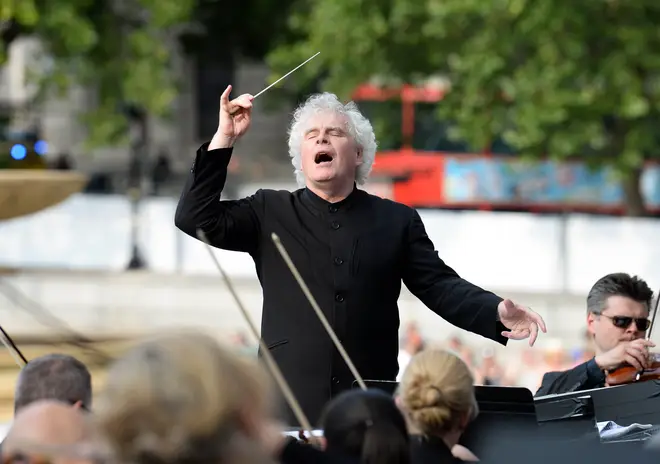 An audience of up to 7,000 people is expected to attend and the concert will be live-streamed on the LSO's YouTube channel. The concert starts at 5pm, but it's best to turn up super early to avoid disappointment at missing a spot in the square. No glass or furniture is allowed, but apart from that it's a pretty open, relaxed affair!
LSO On Track is a partnership the orchestra has with the Barbican, Guildhall and 10 East London music services to champion the work they do, and promote music opportunities for young people. Sunday's concert is a once-in-a-lifetime opportunity for these musicians, and for the people who get to attend the concert of a world-class orchestra conducted by Simon Rattle for free.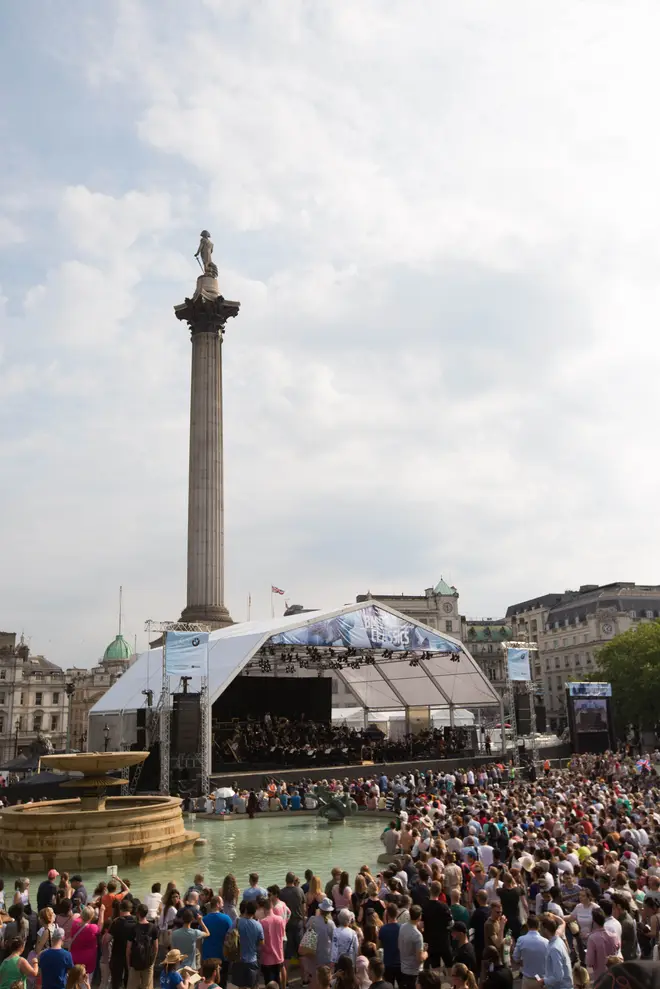 "I for one feel incredibly lucky to be part of it," El Turk says. "It's a combination of the elements that mean a lot to me: to write for a wonderful orchestra conducted by Simon Rattle, to work with the Guildhall School musicians as Guildhall is where I studied, and to be part of a life-changing experience for these young people who are the future of our music.
"Contemporary composers don't always get 10,000 people to watch the premiere of a piece – and a million viewers online – so it's probably one of the highlights of my career so far," she adds.
Simon Rattle conducts the London Symphony Orchestra in music by Dvořák, Ravel, Poulenc and El-Turk, 5pm Sunday 30 June. Visit lso.co.uk to find out more.