This shopping centre has installed a piano – but only the best musicians can play it
14 June 2019, 12:29 | Updated: 18 June 2019, 14:46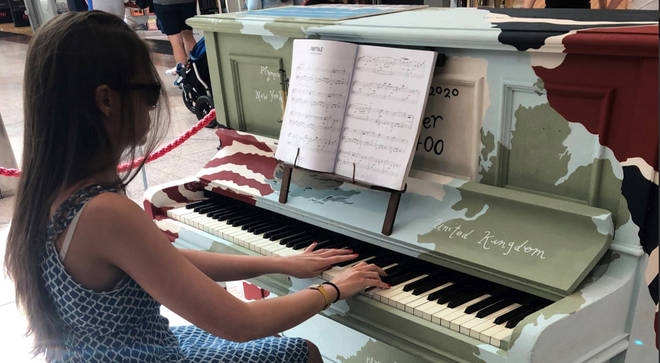 Do you have what it takes to perform on this piano? If you're an aspiring musician and want to share your talent with the world, Drake Circus wants to hear from you…
A beautiful piano has found its new home in Plymouth's Drake Circus shopping centre, but there's a catch – not just anyone can play it.
The colourfully painted instrument was recently added to the shopping centre in a bid to track down talented musicians.
But while members of the public are able to sit down at many of the pop-up pianos dotted around London tube stations and other parts of the country, these 88 keys are reserved for aspiring pianists only.
The upright piano – which has been illustrated with a map of the United Kingdom – has even been cordoned off from the rest of the mall with red rope, making it ultra-exclusive to play.
Greg Lumley, Drake Circus Centre Director, said: "The new custom piano, located outside Waterstones on the lower mall at Drake Circus, has been painted to recognise the city's Mayflower 400 commemorations.
"We're delighted with the installation of the new Drake Circus piano, which not only acknowledges the city's rich history but also provides an opportunity for both budding and established musicians to showcase their talents."
Anyone keen to book a slot should get in touch with Drake Circus and share a video of themselves performing their favourite piece.
Entries will then be judged by the promoter and successful participants will be invited to come in and entertain the local crowd for 15 minutes.
Applications are completely free, but only open to residents in Plymouth aged 16 and over.
And for musicians under the age of 18, written parental consent must be provided in order to take part.
To find out more and apply for your spot at the piano, visit drakecircus.com.