Sarah McLachlan sang 'O Canada' at last night's NBA Finals – and the Internet is divided
14 June 2019, 13:11 | Updated: 14 June 2019, 13:16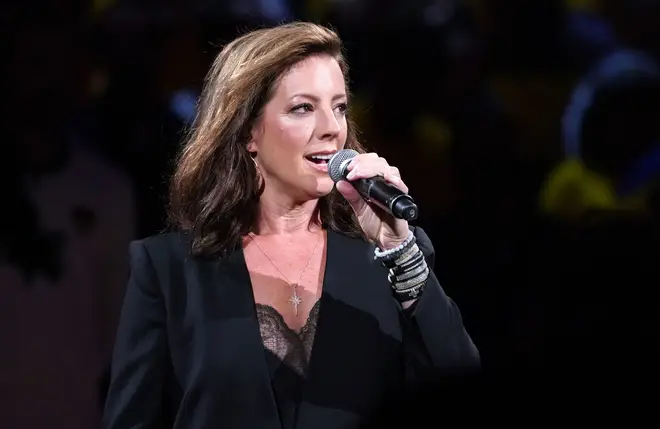 Canadian singer-songwriter Sarah McLachlan appeared at last night's NBA Finals, and sang an understated rendition of 'O Canada'… but not everyone was convinced.
Last night, the Toronto Raptors won Canada's first NBA championship, beating the Golden State Warriors to the coveted title.
To open the game, Sarah McLachlan, the Grammy Award-winning singer from Vancouver, took to the stage to sing the country's national anthem, 'O Canada'.
Her performance, lasting just a minute and a half, was sweet and understated. She starts with lots of breath in her voice, lulling us into the anthem before inserting a few of her signature vocal cracks.
Sarah McLachlan Sings O Canada Ahead Of Game 6 Of The NBA Finals
An A+ music geek transcribed Fergie's Star-Spangled Banner performance >
And although her voice sounds a bit insecure in moments, it's very much to be expected when you're singing completely a cappella, to a stadium of thousands.
But not everyone on Twitter seemed to agree…
Sarah McLachlan will sing the Canadian national anthem at Game 6 tonight. So Warriors fans can have a good cry before AND after the game.

— 22Minutes (@22_Minutes) June 13, 2019
We should add here, that Sarah is particularly known for singing her hit song 'Angel' in a series of animal adoption adverts for the ASPCA (American Society for the Prevention of Cruelty to Animals).
And, because it's the Internet, this inevitably led to a barrage of tweets...
Sarah McLachlan about to sing "O Canada," For effect, they've brought a bunch of sad pets onto the court

— Dan Woike (@DanWoikeSports) June 14, 2019
Sarah McLachlan singing "Oh Canada" still makes me sad for the animals in the commercials

— Chris Schilz™ (@schilzyy) June 14, 2019
Hi I'm Sarah McLachlan & every year thousands of raptors are mistreated.

— Mark Ellis (@markellislive) June 14, 2019
Look, everyone loves to be a critic. McLachlan did well: safe within her mezzo-soprano range, she played around with a few natural breaks in her range but generally kept it simple.
Before the performance, Sarah told CBC News that being asked to perform at the game was "a crazy big deal".
"We as Canadians don't get that many opportunities to celebrate being Canadian… and I love that I get to represent, in a small way, my country."
And with that, we say…