Remembering Terry Jones with this genius comedy sketch: composer Arthur 'Two Sheds' Jackson
23 January 2020, 16:22 | Updated: 23 January 2020, 16:23
Best Sketches Part 1 (Arthur '2 Sheds' Jackson)
The Monty Python star became an instant hit with TV audiences through his quick wit and observational humour – and this early sketch of him playing a vexed classical composer is just perfect.
On Tuesday, Welsh actor, screenwriter and comedian, Terry Jones, sadly passed away aged 77, following a battle with dementia.
The huge loss has been met with people reminiscing about, and sharing, Jones' work, including this early sketch taken from 'Whither Canada', the first episode of Monty Python's Flying Circus (watch above).
In the humorous video, Jones plays classical composer, Arthur 'Two Sheds' Jackson, who is being interviewed by TV host, Eric Idle.
Rather than inquiring about Jackson's career in music, Idle proceeds to ask him a series of unrelated questions about the origin of his nickname.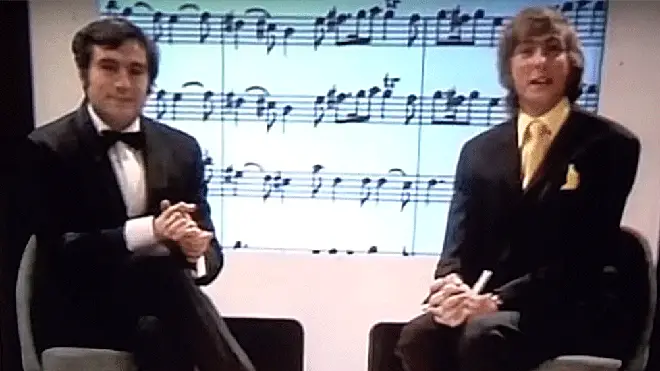 Idle says: "Last week, the Royal Festival Hall saw the first performance of a new symphony by one of the world's leading modern composers: Arthur 'Two Sheds' Jackson.
"May I just sidetrack you for one moment, Mr Jackson, this – what shall I call it – nickname of yours... How did you come by it?"
Jackson replies: "Well I never use it myself, it's just a few of my friends call me Two Sheds!"
The host continues: "I see. And do you, in fact, have two sheds?
"Are you thinking of purchasing a second shed?
"I understand that about 30 years ago, you were extremely interested in train spotting?"
Finally, Jackson loses his patience and remarks: "What's that got to do with my bloody music?!", before being lifted up by security and escorted off the set.
It's one of many witty sketches featuring the legendary Jones – and since his death earlier this week, other comedians have been keen to share their fond memories of the star.
Fellow Monty Python star, Sir Michael Palin, described Jones as "one of the funniest writer-performers of his generation."
John Cleese said he was "a man of so many talents and endless enthusiasm."
Eric Idle added: "It's too sad if you knew him, but if you didn't you will always smile at the many wonderfully funny moments he gave us."
RIP, Terry Jones.