The five funniest comedy sketches featuring classical music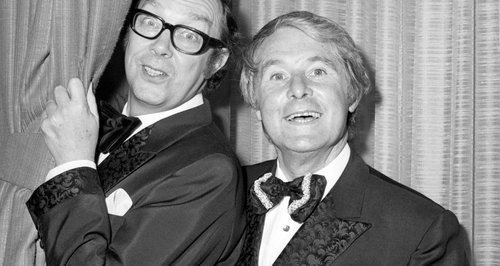 We delve into the TV archives to find classical works that have been put to use in some of the funniest ever comedy routines. Watch them here.
1 Morecambe and Wise, Grieg...and Andrew Preview
The greatest classical comedy moment of them all: world-famous conductor André Previn arrives on the Morecambe and Wise Show to conduct Grieg's Piano Concerto in A minor, only to discover that the hapless Eric is the soloist. Always remembered today as Andrew Preview, Maestro Previn has secured his place in light entertainment history.
2 The exploding Blue Danube
Only those wacky chaps on Monty Python's Flying Circus could transplant Johann Strauss II's best-loved waltz and turn it into an orchestral massacre. No musicians were harmed in the making of this sketch (we hope).
3 Flanders and Swann
Popular English humourists Michael Flanders and Donald Swann first worked together on a school revue in 1939 and eventually wrote more than 100 comic songs together. The theme from Mozart's Horn Concerto No. 4 in Eb major inspired one of their tongue-twisting masterpieces, Ill Wind.
4 Ludwig van Beanhoven
Rubber-limbed, rubber-faced Rowan Atkinson and a pair of white gloves feature in this side-splitting masterpiece.
5 The Two Ronnies beside the seaside
Messrs Barker and Corbett took Luigi Denza's Italian popular song Funiculi, Funicula and turned it into one of their bawdy seaside songs.