"Have a bit of fun with it" – top pianist shares advice on overcoming performance nerves
3 May 2019, 11:08
The concert pianist is one of the brightest young talents in the world of classical music – and now he wants to help others to achieve their full potential
Last month, rising classical star and concert pianist Martin James Bartlett gave his debut performance at London's Royal Albert Hall as part of Classic FM Live.
Before going on stage, we caught up with the young soloist to find out more about his recital, what inspires him musically and what advice he would give to other pianists starting out in their career.
How does it feel to perform at the Royal Albert Hall?
"My first teacher was my mother who taught me from the age of seven, and then I've been at the Royal College ever since.
"Many a time I've looked out of the window of my piano teaching room and seen the Royal Albert Hall, and wished that I would play there one day, so [this is] a dream come true. Tonight, I'll be performing Rachmaninov's second piano concerto. It's a tremendous piece.
"Rachmaninov himself was a very nervous performer. He wrote the entire beginning with lots of runs in the left hand that are entirely concealed by the orchestral tune, so he could warm his fingers up a bit before it became all exposed and solo passage work."
"I love working with orchestras because there's that collaboration and you get so many different ideas. Today, I was rehearsing with the conductor and he said 'look, let's just try this!', so in that moment we went off and tried a different colour. It's nothing I would ever have come up with on my own, so that was a very interesting thing to do."
What are your pre-performance rituals?
"Usually before I warm up, I'm very careful – I have this thing where I make sure that my fingers never touch any other key, so therefore if I'm warming up a passage at the beginning, I play very carefully like this [see video], so I don't touch any of the outer-lying keys; it's just a psychological thing.
"I do lots of practice without the pedal – the pedal is a very useful tool, but it can sometimes conceal the intricacies of what you're actually doing. And then of course as much practice (hands separately) as you can possibly do to really engrain the music in your fingers."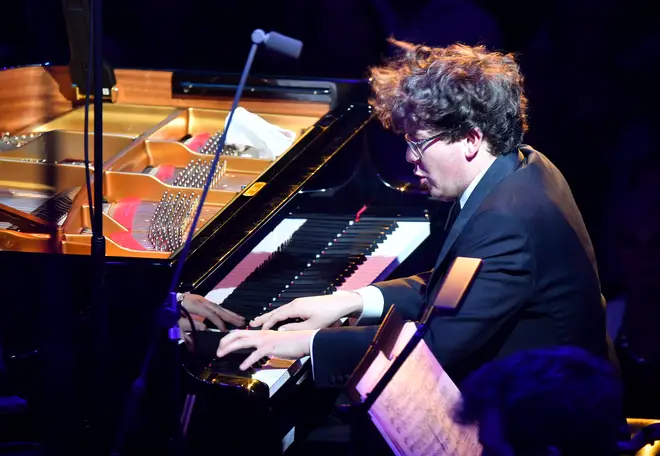 How do you deal with nerves?
"I do suffer with nerves – I think we all do as performers. I've come up with a routine that I do now, which is very rock n' roll… I eat a few bananas, I have a nap, and then I wake up and slowly warm up [before going] on stage.
"I've never been a terribly nervous person, I've never not been able to go on. But especially in the Royal Albert Hall when you come on the stage and see the enormity of the building – that can be quite a shock."
What advice would you give to other young musicians?
"Always look at the privilege of what you get to do. We get to play these amazing works in amazing venues with wonderful conductors – and we essentially, hopefully, bring joy to other people's lives.
"I would say even if you're very nervous about something, look at the privilege of being able to do it, the talent that you've got and the hard work you've put in – and really try to enjoy it.
"The more you enjoy doing something, the more your nerves will fall away and you can have a bit of fun with it. And in the end, that's what music is all about."
Martin is currently studying for his MA degree at the Royal College of Music and is due to perform at London's Royal Festival Hall on 7 May with the Philharmonia Orchestra.
Listen to Martin James Bartlett on Spotify.