No audiences, but concerts streamed to the world. This is a moment in classical music history
16 March 2020, 21:51 | Updated: 16 March 2020, 22:25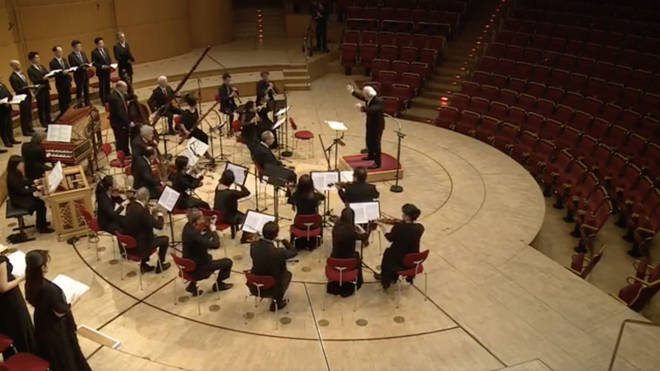 At a time of profound upheaval, music is being made not for an audience, but for the world.
Last night, Bach Collegium Japan performed Bach's St. John Passion at the Cologne Philharmonic. The performance was full of passion and the highest artistry. At the end of the final chorale, orchestra, choir, soloists and conductor turned and bowed, but very poignantly, there was no sound or ovation to be heard.
That's because in the Spring of 2020, the world's musicians are not playing to audiences, they are not showcasing their craft for the applause, or even rapt silence. They are simply playing to share music with a world that needs to hear it.
Metropolitan Opera to Berlin Philharmonic: all the classical music concerts being streamed for free >
As governments around the world ban gatherings, multiple theatres, concert halls, and opera houses have had to shut their doors to the public. In response, many artists and venues are turning to social media and Facebook Live, Twitter's Periscope and YouTube live streams, to fill virtual concert halls.
It's happening all around the world and we wanted to highlight just a few for you, and invite you to share moments on social media that have moved you.
200,000 people watched that Bach performance last night. "What a gift to the world, performing without an audience - for all of us!" said one viewer, watching from Michigan in the United States.
Classical music hasn't had a moment like this before, but millions of people are watching these performances – some big, some small. Music may be reaching us in a different way, but it's still having the same impact it's always had: inspiring, calming, entertaining and bringing reassuring peace. And it feels like the world needs that more than ever.
Bach's St. John Passion from Bach Collegium Japan

That powerful and profound performance from Cologne – watch it on Facebook here.

Rimsky-Korsakov's Scheherazade from the Melbourne Symphony Orchestra

A piano recital from Igor Levit

Beethoven's Symphonies 5 & 6 from the Philadelphia Orchestra and Yannick Nézet-Séguin

Beethoven from the Vancouver Symphony Orchestra

And your recommendations in the comments...

Have you heard music over the last few days that has inspired you, or given you peace? Share below. ❤️🎶 We all need the joy of music 👇

Posted by Classic FM on Monday, 16 March 2020

Boris Giltburg live Twitter recital