Musician offers kids trumpets in exchange for their guns
28 July 2020, 10:30 | Updated: 28 July 2020, 12:42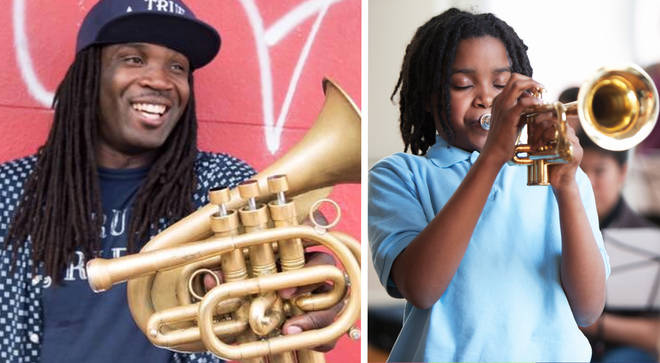 'Bring me a gun and I'll give you a trumpet', promises trumpeter Shamarr Allen in a bid to combat violent gun crime in New Orleans.
In Louisiana, an estimated 49 percent of households currently own a gun and the state ranks fourth highest in gun-related deaths across the nation – many of which can be attributed to young offenders.
That's why trumpeter Shamarr Allen has come up with a novel idea: exchanging firearms for trumpets.
Titled Trumpet Is My Weapon, his bright initiative hopes to combat gun crime in New Orleans and inspire young people to follow a safer path in life.
Earlier this month, Allen promised via Instagram: "To all the youth in New Orleans, Bring me a gun and I'll give you a trumpet no questions asked. I'm doing this until I run out of trumpets."
To help get his exchange program off the ground, Allen set up a Go Fund Me page on 17 July with a fundraising target of $6,500 – and already, he's exceeded this amount with a current total of $32,728.
Read more: In gangster movies, guns are always hidden in violin cases. But did it really happen? >
On the page, he explains that all proceeds raised will be used to purchase trumpets (each costing around $250), along with a selection of music books.
The source of inspiration for the program is also close to home for the musician, who commented: "On Monday, July 13, 2020, a group of children were shot and injured while playing outside their home, with one of the kids, a 9-year-old male, being murdered. 
Read more: Quarantined trumpeter plays beautiful 'Imagine' solo from balcony in Italy lockdown >
"As the father of a 9 year old son, I thought how easy it could have been for that to be my own son. Much like a lot of the gun violence happening in my city by young people, it is heartbreaking to know and see this happening to our kids. 
"My thoughts and actions immediately went to how can I contribute to reducing the chances of the continuation of this level of gun violence amongst our youth.
The trumpeter also admits that 'The Trumpet Is My Weapon' has been his personal mantra for years, providing him with a vital tool for his own success despite growing up in the Lower 9th Ward of New Orleans – a poverty-stricken area affected heavily by gun crime.
Since starting his program, Allen has collected four guns that have all been turned over to police, and is set to collect many more.
The trumpeter says: "With a communal effort we can make a difference in the lives of others. Even one life saved is a step in the right direction."