Quarantined trumpeter plays beautiful 'Imagine' solo from balcony in Italy lockdown
16 March 2020, 12:38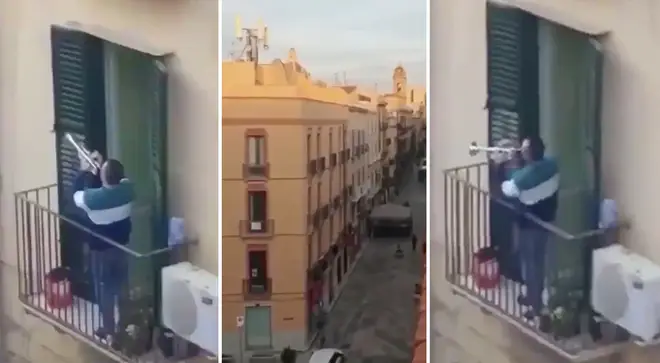 In uncertain times, these balcony videos are showing music's incredible power to bring solidarity and comfort to those most in need.
The beautiful sounds of a brass instrument rang through Italy's streets over the weekend, thanks to this trumpeter who decided to give his neighbours a free concert.
Quarantined in his home, the brass player took to his balcony to serenade his neighbours with John Lennon's song 'Imagine', which envisions a world of peace and unity.
The video, filmed by his neighbour, is captioned: "Nobody is supposed to leave their homes in Italy, so he broke out his trumpet and gave everybody a free concert."
It's beautifully moving – watch below.
For a week now Italians have been unable to leave their homes, since the country was put under quarantine to control the outbreak of COVID-19.
And to battle feelings of loneliness and uncertainty, Italians up and down the country have been turning to one of the things they do best: sharing music.
In another video shared widely on social media in the past few days, quarantined Italian neighbours sang a traditional song 'Canto della Verbena', together across the streets of Siena.
We've also heard a beautiful 'Nessun dorma' from a quarantined Italian tenor, and a flashmob in Rome in which people found unity through communal balcony singing.
There are now 24,700 cases of COVID-19 in Italy and 1,809 with coronavirus have now died in the country, which is the hardest-hit by the virus in Europe.