Mormon Tabernacle Choir singer resigns in protest at Trump inauguration performance
30 December 2016, 13:56 | Updated: 30 December 2016, 15:08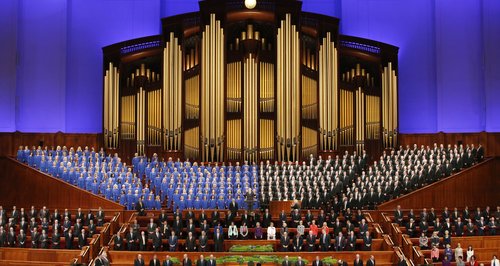 Jan Chamberlain, who has been a member of the world-famous Mormon Tabernacle Choir for five years has resigned from the choir, saying 'it will appear that the Choir is endorsing tyranny and fascism'
She writes: "I have highly valued the mission of the Choir to be good-will ambassadors for Christ, to share beautiful music and to give hope, inspiration, and comfort to others…
But it's no use. I simply cannot continue with the recent turn of events. I could never look myself in the mirror again with self-respect."
She goes on to say that by performing at President-elect Donald Trump's inauguration: "it will appear that Choir is endorsing tyranny and fascism."
Jan closes her letter with the words: "My heart is shattered and broken............. but my conscience is clear. And THAT, really is all that matters."
Here's her whole letter:
A spokesperson for the choir told The Salt Lake Tribune: "Participation in the choir, including the performance at the Inauguration, is voluntary. Only a limited number of choir members are participating (the number is limited by the inaugural committee), and none are required to participate."
Italian tenor Andrea Bocelli was invited to perform at the ceremony but declined the offer. Singer and former child star Jackie Evancho, however, is set to perform, along with the Marine Corps band and the Radio City Rockettes.