Andrea Bocelli will NOT perform at Donald Trump's inauguration
21 December 2016, 12:25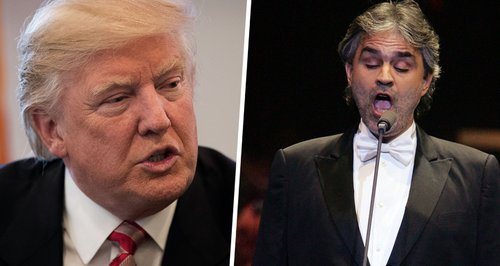 Tenor Andrea Bocelli will not perform at the inauguration ceremony for US President-Elect Donald Trump.
Rumours around a possible appearance for the Italian tenor sprang up last week after soprano Jackie Evancho confirmed that she would be singing the American national anthem at the event on January 20th.

The possibility of a Bocelli performance has prompted much activity around the hashtag #BoycottBocelli, with fans claiming that they would no longer support the tenor if he sang for the controversial President-Elect.
How many fans does @AndreaBocelli have in red states?Blue states? If he performs at the traitor's inauguration I'll have to #BoycottBocelli

— Camila Bijoux (@camila_bijoux) December 17, 2016
But now it seems that Bocelli will definitely not be appearing at the ceremony. In a television interview, the chairman of Trump's inaugural committee Thomas J. Barrack Jr. said:

"The Bocellis came to him and said, 'If you would like us to perform, we would consider it.' And Donald said 'You don't need to. We're not in that kind of a framework. Thanks very much for the offer, you're my friend, you're always welcome at the White House.'"

"It never got to 'can you, would you, will you' with either of them. They're just great friends."