Tearful MEPs sing 'Auld Lang Syne' after Brexit deal passes
30 January 2020, 13:28
A moment of high emotion and music as the Withdrawal Agreement was passed in the European Parliament
On Wednesday evening in Brussels, Members of the European Parliament overwhelmingly backed the terms of the UK's departure from the EU.
MEPs voted in favour of the European Union Withdrawal Agreement on Wednesday evening by 621 votes to 49.
There were emotional scenes in the chamber following the historic vote, with a number of MEPs breaking into a rendition of 'Auld Lang Syne'. Some members wiped away tears, held hands, and others embraced each other as they sang.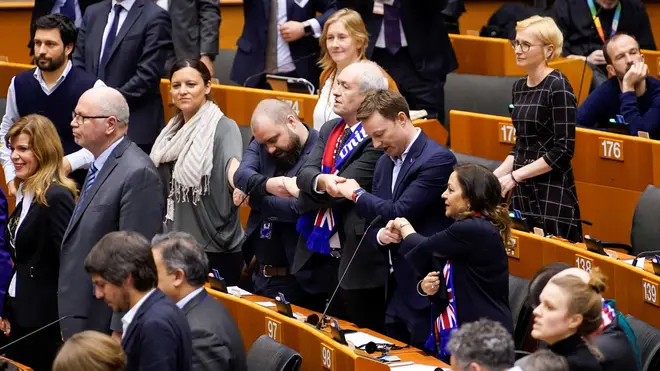 Read more: What are the lyrics to Auld Lang Syne? >
The words to the famous song were written by Scottish poet Robert Burns in 1788. The text tells of two friends catching up over a drink or two, reflecting on a friendship that's been long and occasionally distant. The song, commonly sung in new year celebrations, often represents regrets, the warmth of togetherness, the passing of time, and the hope of future friendship.
On the other side of the political divide, Brexit-supporting MEPs cheered and waved Union Flags. Brexit Party leader Nigel Farage declared Britain was "never coming back".
The vote means Brexit has cleared its final hurdle before the UK's departure from the EU at 11pm on Friday night.