Cellist Martin Lovett, last surviving member of Amadeus Quartet, dies aged 93
30 April 2020, 10:25 | Updated: 30 April 2020, 10:37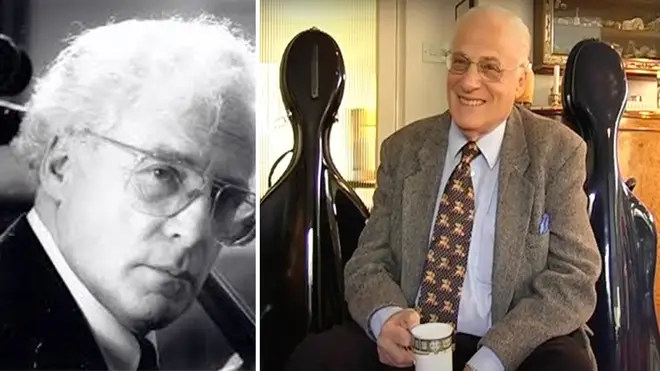 For 40 years, the British cellist performed with the Amadeus Quartet – one of the leading chamber ensembles of the 20th century.
British cellist Martin Lovett, best known as a member of the Amadeus Quartet, has died aged 93.
Lovett was born in 1927 to a musical family; his father was a cellist in the Hallé and London Philharmonic Orchestra. Aged 15, Lovett won a scholarship to the Royal College of Music aged 15. Here he met Suzanne Rozsa, who would become his wife for 55 years. He later remarried to Dorinde van Oort.
In 1947, the young cellist joined the Amadeus Quartet aged 19. The group, comprised of violinists Norbert Brainin and Siegmund Nissel, and violist Peter Schidlof, remained together for 40 years and would become one of the leading quartets of the time.
Their recording of Beethoven's complete String Quartets was widely considered the definitive recording of their day. In these 1960s accounts, glitz is downplayed in favour of collegial spirit and warm-heartedness.
Beethoven, String Quartet No.6, Op.18 no.6 - Amadeus Quartet
When Schidlof died in 1987, the quartet decided to disband. Lovett continued to perform in various chamber groups, and was a judge in many international chamber music competitions.
Lovett was awarded an OBE for his services to music with the Amadeus Quartet, and also received the German Grand Cross of Merit and the Austrian Cross of Honour for Arts and Sciences.
His son, Peter Lovett, shared the news of his passing on Facebook: "It is with great regret that I have to announce the death of our beloved father Martin Lovett this morning in North London.
"An exceptional musician, artist, raconteur and liberal thinker. Last survivor of the Amadeus String Quartet, Father to Sonia Lovett and Peter Lovett and husband first to Suzanne Rozsa and then Dorinde van Oort."
Amadeus Quartet - Mozart: String Quartet in C, K465
Cellist Steven Isserlis paid tribute to the great on Twitter, remembering Lovett for his "dry humour" and calling him a "lovely, very funny man" and "very popular character".
Lovett died on 29 April 2020 in North London, after suffering from poor health for many years. RIP to a great musician, mentor and teacher.