Laura Mvula: 'Teaching music was the best and worst thing that ever happened to me'
25 September 2016, 15:00 | Updated: 20 October 2016, 09:54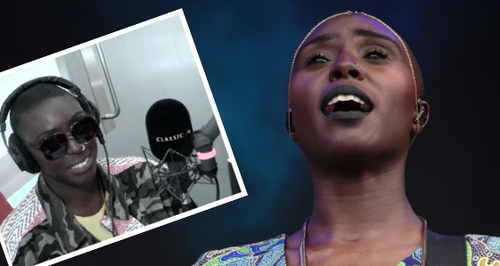 Singer launches Classic FM's Music Teacher of the Year 2017 - and remembers her days as a music teacher.
Before she became a Mercury-nominated singer, Laura Mvula worked as a supply teacher, and as a private music tutor.
Of that time in her life, before her career took off in 2012, Mvula told Classic FM: "Oh my gosh, it was the best thing and the worst thing that ever happened to me."
She added: "It was the best thing because, although I was in a teacher role, I feel like I learnt the most that I had learnt, in such a short space of time."
"What comes with teaching is exhaustion sometimes, and deep frustration," she added. "It's a huge commitment."
But what was "infinitely rewarding" for the singer was seeing children finally finding their own artistic voice. "It's a huge privilege," she said. "So I'm always humbled in that moment and I remember, 'OK, that's why I do this.'"
"If I think about how much the kids invested in their own creativity," she said, "they were so wanting to grow, they were so hungry which made me feel so responsible."
Laura Mvula launched the 2017 Classic FM's Music Teacher of the Year on Classic FM with Charlotte Green. We're looking for the UK's most inspirational music teachers in this year's competition, in association with the Associated Board of the Royal Schools of Music, and Casio.
Classic FM's Music Teacher of the Year 2017: how to nominate >
"This award for me is so important," she said. "I feel deeply connected to it because I remember how important teachers played a role in my creative journey, and also in my own little experience in teaching, I know a little bit of what it takes to teach."
Laura Mvula talks about Classic FM'a Music Teacher of the Year:

"I wasn't the most gifted kid back in the day," Mvula told Charlotte Green, "but what was important was that teachers found a way to nurture the potential that I had. They spotted an enthusiasm and a keenness, like a fire for music that was there from the beginning, and it had to be tamed and trained and made skilful."
A stand-out teacher in Mvula's memory was a Mrs Matthews at Wheelers Lane Junior School, Kingsheath in Birmingham.
"She was the first person to recognise that I wanted to play violin and made it happen which, to me, seemed like a miracle at the time because I was late to it," Mvula said.
And the singer said teaching also helped her confidence and skills as a performer today.
"I know that I owe a lot of my ability to stand in front of an audience and deliver, to teaching to the classroom and to the private music room."
Mvula also explained how she became increasingly involved in music, joining her aunt's vocal group, Black Voices.
"I loved hearing them sing. So as soon as I was of age, I asked if I could be part of the group, and I would write for them and a lot of the school work that they did, bringing kids together to sing," she said.
Watch Laura Mvula talking about her career in music, how she overcomes pre-performance nerves, and her song, Phenomenal Woman.
So let's see exactly where Mvula's early love of music – and some inspiring teachers – took her: