Anti-LGBTQ street preacher drowned out with saxophones on New York street
1 November 2019, 20:48 | Updated: 2 November 2019, 00:34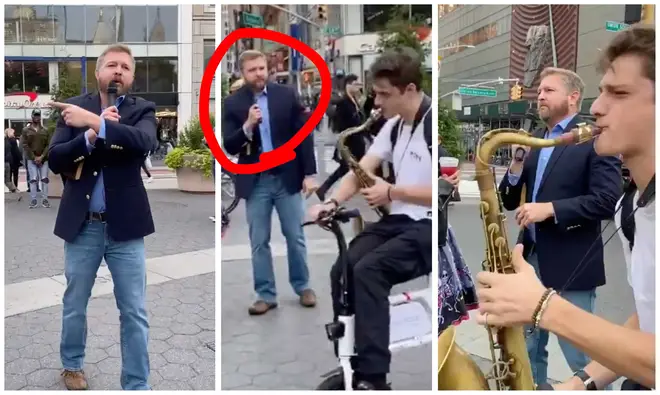 When a guy started warning of the dangers of 'the homosexual community', these saxophonists knew just what to do.
A spontaneous trio between two saxophones and a anti-LGBTQ preacher has caught attention online.
The scene, which unfolded in New York's Union Square Park last Friday, was captured by New York-based filmmaker Nicolas Heller.
The street preacher is heard promoting that the "homosexual community has the highest suicide rate of any group" and confronting members of the public. But it's not long before two saxophonists drown out the anti-LGBTQ messaging with some jazzy riffs on their tenor and alto instruments.
One of the reedy warriors even takes to his Swagcycle to circle the preacher and replace his message with good music.
Take a look at the action as it unfolds:
Heller later explained what happened to the publication Queerty, saying: "I was running late to a meeting when I was passing through, so I only had two minutes to see what was up"
One of the saxophonists, Augie Bello, wrote on Instagram: "Today @roel.julian and I were hanging and we stumbled upon some homophobic guy with a mic so we played over him. Shoutout to @newyorknico for capturing this moment."