Hildur Guðnadóttir is the first solo female winner of Grammy for Best Score Soundtrack
27 January 2020, 15:31 | Updated: 27 January 2020, 16:10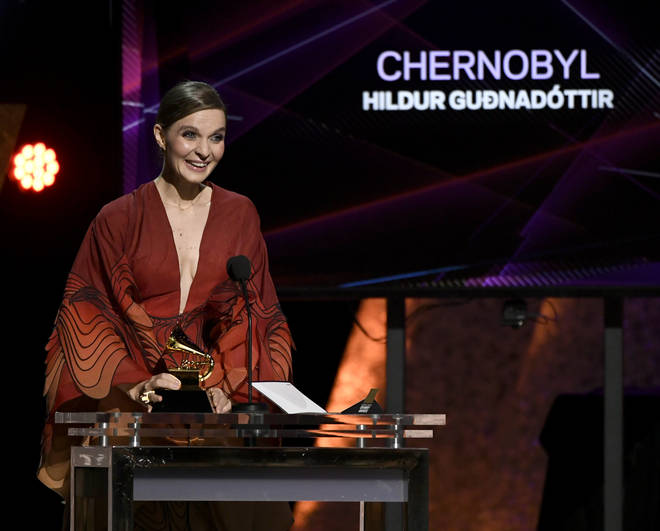 The record-breaking 'Chernobyl' composer is the first solo female to scoop the Best Score Soundtrack Grammy in the Awards' 62-year history.
Hildur Guðnadóttir has made Grammy history as the first solo female to win the award for Best Score Soundtrack for visual media.
The Icelandic composer, who scooped the award for her Chernobyl soundtrack, has already had historic award wins this year, including when Joker made her the first woman to win 'Best Score' at the Golden Globes last month.
Guðnadóttir has also received an Oscar nomination this year for her Joker score.
Read more: 'Joker' composer Hildur Guðnadóttir is first woman to win 'Best Score' at Golden Globes >
The first female winner in Best Score for 35 years (Sharon Robinson, Sue Sheridan and Allee Willis won for Beverly Hills Cop in 1985), Guðnadóttir adds the Grammy for Chernobyl to an existing collection of awards for the HBO mini-series that includes an Emmy, and a Composer of the Year Award from the 2019 World Soundtrack Awards.
"I've noticed a bit of wariness sometimes in the last decade or so to trust women for these bigger projects," Guðnadóttir said after her recent Golden Globes win.
"But I believe that because of all the awareness that has been raised in the last couple of years about the position of women in the industry, I have benefited a lot."
Read more: Everything you need to know about the 'Chernobyl' soundtrack >
She also said: "I've been doing film music for almost 20 years, so it's been a long time coming. I don't really know exactly what happened at this point for everything to explode so massively, but it's definitely been a beautiful year and incredible to get both of these opportunities at the same time."
The composer joins a host of incredible classical artists that have been recognised in this year's Grammys, including brilliant violinist Nicola Benedetti and legendary film composer John Williams.
It's fantastic to watch Guðnadóttir's success unfold – and we just can't wait to keep hearing those sensational scores of hers.
Hildur Guðnadóttir's 'Fólk fær andlit' is out now on Deutsche Grammophon.